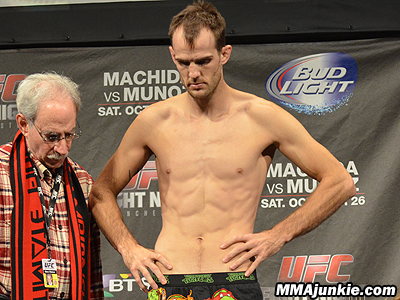 On Saturday we watched Cole Miller walk away with a much deserved victory over Anthony Ogle. After 3 rounds of fighting, and an amazing sweep in the second round, Cole Miller wins by unanimous decision. This win is great for Miller who is coming off a controversial loss to Manny Gamburyan. Cole managed to rile up the English crowd in Manchester with his post fight interview.
"I don't know what's going in with these judges in mixed martial arts, ruining my last fight," Miller said. "I don't know what's up with these European fighters, either. Ross Pearson couldn't be beat. Andy Ogle couldn't be beat. Dennis Siver can't be beat. And you know what? Neither can 'Colin McGoober,' so bring it."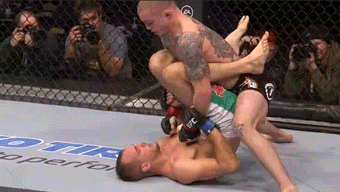 The fight was great, but Miller's interview is what has more people talking. He talks about his experience with European fighters and get's the Manchester crowd going. After a few words Cole Miller calls out the up and coming Irish UFC star.
"Colin McGoober," or as we know him, Conor McGregor is an increasingly popular Irish fighter in the featherweight division. Hopefully we can see this fight in the future because both fighters are really fun to watch. We have seen McGregor tested on the ground in the UFC and we all know Miller has an incredible ground game. He demonstrated that with his incredible sweep against Anthony Ogle at UFC Fight Night 30.
We see in the GIF to the left a clip from the second round of Miller vs Ogle. Ogle was struggling a little in the first round but held in there. He managed to hold a top position on Miller but was swept in an incredible display of Jiu Jitsu awesomeness. If you aren't that into grappling or Jiu Jitsu, you should still be able to appreciate the control and technique Miller displays with his sweep and transitioning.
Maybe if we get really lucky we can see Cole Miller Conor McGregor fight in the future. I would also settle for a bout between Cole Miller and Jimy Hettis who also walked away with a victory in Manchester.
Owner of evolvedMMA.com. I am a Certified Personal Trainer who trains Mixed Martial Arts. I review any and everything. I sometimes bet on fights!
Latest posts by Travis Williams (see all)