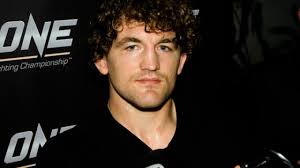 It really seems like we've just been waiting for the UFC to sign the dominant welterweight Ben Askren. If you've seen this dude fight, you know he can definitely hold his own against some of the best the UFC has to offer. The UFC passed on signing Askren after his run with Bellator when he was a free agent. He has since signed a 6 fight contract with ONE FC and has won 2 fights and gained the welterweight title since signing. On August 29th Ben Askren fought the previous ONE FC champ, Nobutatsu Suziki and won in the first round.
After it was announced that UFC newcomer Joe Soto would face TJ Dillashaw for the title after Renan Barao missed his weight cut, Askren took to twitter to ask for a title shot.
@danawhite@lorenzofertitta well if you guys are just giving out free title shots to anyone I'll take one

— Ben Askren (@Benaskren) August 29, 2014
This tweet was brought up during the UFC 177 post fight scrum when questioning Dana White. He seemed open to the idea of signing Ben Askren, to which he says if he keeps winning we'll go from there.
"Listen Ben Askren said a lot of stupid shit (you know) when he left but I don't care about stuff like that. We'll see how the kid fights…What he does…We'll go from there. Contrary to popular belief, well I do hold grudges if you're a real idiot I'll hold a grudge 'til the day I drop dead. But fighters? I don't really do that with fighters. These guys are built different then everybody. They're tough guys and this is what they do for a living and they're gonna say stuff like that. If Tito can come back to the UFC, anybody can come in here, believe me. 'Cause there's nobody on Earth I hated worse than Tito ya don't have to like 'em to do business with 'em."
Askren tweets again later to Dana White.
Oh thank you master @danawhite can I please have a shot

— Ben Askren (@Benaskren) August 31, 2014
Owner of evolvedMMA.com. I am a Certified Personal Trainer who trains Mixed Martial Arts. I review any and everything. I sometimes bet on fights!
Latest posts by Travis Williams (see all)