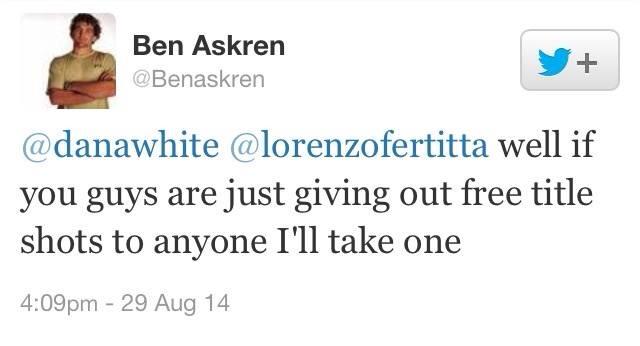 Due to some weigh in day issues amongst others, the UFC 177 card has suffered and will now feature only 8 bouts. The former Bellator champion and current ONE FC welterweight champion of the world, Ben "Funky" Askren takes to Twitter to ask the UFC for a title shot. Askren has been a dominant welterweight but has always been considered "one dimensional." He has been working on his skills and seems to have improved and now holds the ONE FC belt. Do you think we will see Funky in the Octagon anytime soon?
@danawhite@lorenzofertitta well if you guys are just giving out free title shots to anyone I'll take one

— Ben Askren (@Benaskren) August 29, 2014
The former Olympian has some of the best wrestling skills we have ever seen in MMA and could provide an interesting match up for some of the big names in the UFC. Maybe after a couple more wins Dana and Lorenzo will wake up and give this guy a chance. Get Funky now.
Owner of evolvedMMA.com. I am a Certified Personal Trainer who trains Mixed Martial Arts. I review any and everything. I sometimes bet on fights!
Latest posts by Travis Williams (see all)