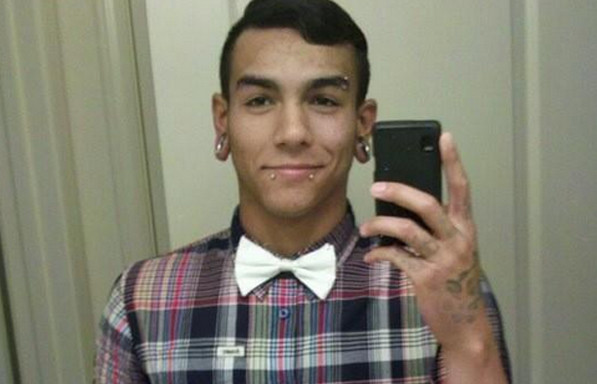 Andre "Touchy" Fili (14-2-0) is a somewhat recent addition to the UFC's featherweight division, making his UFC debut in October, 2013 at UFC 166. Fili trains out of Sacramento's Team Alpha Male, and he will be taking his "family" with him in his upcoming bout against Godofredo Pepey (12-3- 0) at Ultimate Fight Night, Maia versus LaFlare, in Rio De Janerio, Brazil on March 21. At Team Alpha Male, the fighters view their training and fighting as a brotherhood, a bond that can only be tightened by punching one another in the face.
Though Fili carries with him the fun-loving, Alpha Male swagger into the Octagon, he also recognizes how he greatly contrasts the remainder of his team members' appearances. Fili explains the stark differences on a recent episode of The MMA Rounds with Patrick Wyman,
"When you look at me, I'm not a frat guy at all: I have tattoos on my head; I have stretched ears; I pretended to go to junior college for a semester. That's (frat life) not me. I'm kind of the black sheep of Team Alpha Male."
This featherweight contender doesn't fit the physical mold of the majority of his Alpha Male circle, but Fili possesses the grit and determination to adapt and develop to become a top tier fighter.  In the same interview, Fili shared how hard he worked to adapt when he discussed his move to Team Alpha Male. He said,
"I went over to Team Alpha Male and got my ass kicked for a year. It took me a year to transition into seeing, oh, these guys aren't doing what I 'm doing: they're training three or four times per day, not three or four times per week; they're eating good; they're not going out and partying; they live this lifestyle, so once you make it your lifestyle, things change."
Not only has Fili embraced the grind and the Alpha Male lifestyle, he also practices the Alpha Male mindset, professional fighting is a job, and equates this mindset to his success as a professional fighter. Sure, it's a job he loves, but, nonetheless, it's still a job. Fili describes what it's like to clock in and get to work at Sacramento's Ultimate Fitness training center by recounting,
"We do take it serious and we do treat it like a job, but at the same time, it is also like a family. It's a weird dynamic, ya know. It's like having a job where you go and do something you enjoy, have co-workers you genuinely like, except, we beat the shit out of each other. So there's a deeper bond; we're all chasing the same dream."
It's clear when listening to Andre Fili describe his team and/or teammates that he has an incredibly high level of admiration for them. Whether you are the outcast, black sheep, or red- headed stepchild of the family, the passion in your heart shines through in your behavior and actions, so acceptance, even outside the norm, is not uncommon in any family's makeup.
By day, I'm an elementary school teacher. By night, an MMA enthusiast bringing those closer to the fence another perspective.
Latest posts by Dave Madden (see all)