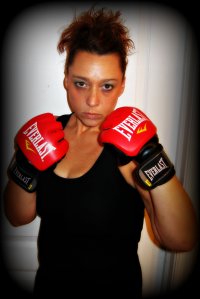 Fans of sports are typically fans for leisure, though there are times when an athlete's story is told, thereby making our sports an inspiration. Amy "Whoop-Ass" Sica (1-6-0), a women's lightweight competitor, recently shared her story on Episode 64 of Cage Side Submission Radio, CSSR, and her tale reminded listeners that the fight doesn't only occur within the fenced enclosure. There are struggles in our daily lives; therefore, a fighter isn't limited to only "Whoop-Ass" when it's you, a competitor,and a referee. Sica got into the fight game as a means to losing weight. Before beginning any training, she recounted,
"I started doing this whole MMA thing because I was 407 pounds, and I needed to lose a lot of weight."
As the pounds started coming off, those around Sica suggested she try her hand at competing. Sica remembered how she made up every excuse possible to not compete, but when her weight got down to under 200 pounds, she figured she had fought so hard already, so she decided,
"Nothing is holding me back, let's roll."
That first fight may have been the building blocks of strength and endurance for Sica and providing her the drive to "Whoop-Ass" when need be. She flashed back to that first fight saying,
"That as my first fight. Ever since then, I've just been pushing forward and doing what I gotta do."
The true test of Sica's heart took place about eight and a half months ago when she went through a bout of medical issues. According to Sica, she had undergone weight-loss surgery, and approximately three-weeks after the surgery, she began to experience a number of complications. The doctors had even suggested that she not fight anymore. This was all very difficult for Sica to comprehend as she remembers,
"I truly believed that I would never see a day in the cage again. I laid in a hospital bed for nine days in Tampa, two and a half hours away from my family. I hit a depression mode that I never thought I'd see because the cage was my life. I felt somebody was ripping that away from me after I had worked so hard."
The co-host, Rachel Blaze, as well as any listeners with half a heart, found Sica's story inspirational, but the true payoff is knowing how Sica was able overcome any urges to give up. In order for Sica to share her mindset, she had to go back to her days of losing weight. Sica shared her thought process,
"When I got started, the gym became my new addiction. It was something to replace everything else that I thought I was doing wrong. If I thought I was eating too much sugar, I went to the gym for an extra hour. If I didn't think I did enough work on my legs one day, I would double my training the next day. In one sense, it became an obsession. In another sense, it became a battle and a competition with myself. I started setting goals. I said, 'This week, I'm going to lose this many pounds.' In my head, I was really saying, 'I'm going to lose three more pounds than what I originally set out to lose."
Sica doesn't shy away from the fact that she is the one who set her own goals and achieved them, but she is also quick to give credit to those around her, who cared and supported her. She credits these people stating,
"I have sponsors that are absolutely amazing that have always had my back: MMARoadHog is one of my hugest supporters, whether it's in the cage, out of the cage, friendships, sponsorships; my Boost365 family; even my individual family. I have a sister-in-law who is my rock, [she] constantly pushes me day-in and day-out, with, 'One day at a time.' I have my kids and my husband. They've all been a constant support, even when I first started losing weight. My kids measured me by how much they can get their arms around me, telling me how much weight I had lost. My son finally could get his arms all the way around me and said, 'I can finally hug you now!'"
Sica acknowledges her supports, though she realizes the constant roadblocks that life puts in front of us, and she has had to push past those detractors in order to reach any of her goals. She was reminded of those who believed she was losing weight too quickly; doctors who told her she'd never fight again, and she even doubted herself. Sica finally came to the realization,
"There seemed to be no happy medium with people."
Now, no matter what lays ahead of Sica she has the will and desire to continue to fight. In her interview, she spoke of her renewed sense of self. She said,
"I've got a renewed mind and a renewed spirit, and I'm more motivated than ever. It's been one heck of a journey. Each step I took whether I stumbled and fell, I always had to have the mindset that I was going to dust myself off and get back up."
Sica also shared her dedicated work ethic isn't only for herself, but she wants to lead by example for her sons, modeling for them what determination truly looks like. She shared her beliefs saying,
"I look at my kids everyday, and I see so much of a future in them, and I want to give them that example: motivation, determination, never give up."
Sica summed up her belief of how you know you are doing your best for listeners by explaining how it is she knew that what she had been doing was right. Sica knew she could put a whoopin' on anything, and she'd continue to do so by saying,
"When I could finally look in the mirror and I could, for the first time in my life, see a smile turning back at me; that was the defining moment where I said, 'Hey, I like myself.' I finally achieved the status where Amy can achieve whatever Amy wants to achieve.""
Amy Sica is just like the masses: she has a full-time job, manages a family, and pursues hobbies. A difference between Sica and the ordinary is her willingness to "Whoop-Ass", not only in the cage, but she demonstrates her warrior spirit in her daily plight. We all have a fight in front of us each and every day. We may not carry it around with us as Sica does, tattooed on her back are boxing gloves with the saying: "Face Your Fears and Live Your Dreams", but it should hitch a ride at the forefront of your thoughts. Work hard. Persevere. Never give up!
By day, I'm an elementary school teacher. By night, an MMA enthusiast bringing those closer to the fence another perspective.
Latest posts by Dave Madden (see all)