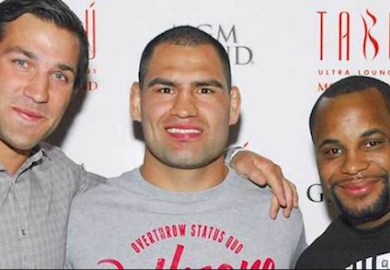 Cain Velasquez trains with the American Kickboxing Academy. The UFC heavyweight champion trains with many other fighters that could be in line for title shots. Head coach Javier Mendez did a recent interview with Bloodyeblow and talked about Cain Velasquez as well as his other UFC title prospects.
He said:
"I 100% expect Daniel [Cormier] to fight for the belt with a win. He'll be the first one. Then the next will be Luke. I think Luke Rockhold needs [one win]. Then the next one could be Josh Thomson or Khabib.
[The fight with Benson Henderson] It wasn't really a loss, it really wasn't. And people should go "Josh Thomson is definitely top 4 in the world." So one win should be enough for him.
We could potentially have four belts. I'm feeling pretty confident with all my guys. I think we have a great fighter in Luke Rockhold. And I think Daniel Cormier and Cain Valesquez in their divisions are far ahead of everyone else. If you don't believe me just watch Daniel's fights. He destroys everyone. He's never lost a round. And Cain, he's never lost a round except for that one fight he got knocked out by dos Santos. Besides that one moment, both of those guys combined have never lost a round."
Owner of evolvedMMA.com. I am a Certified Personal Trainer who trains Mixed Martial Arts. I review any and everything. I sometimes bet on fights!
Latest posts by Travis Williams (see all)