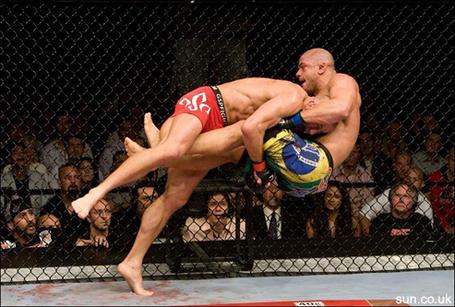 Wrestling is one of the toughest sports to compete in. In the combat sports world, wrestlers have been able to transfer to other sports with great success. Wrestling has become huge in MMA and many great fighters have come from a wrestling background. Wrestling teaches a lot about distance, clinching, and most of all mental toughness. Many wrestlers have won fights just because they were about to out grind their opponent. Wrestling has proven to very effective in Mixed Martial Arts and this has helped with the popularity of the sport.
Wrestling involves being able to control your opponent and also having the ability to hold them down. Typically the wrestler with the better technique has the advantage given their weight is the same. However a stronger fighter with great technique can always have an advantage. If you follow the proper wrestling strength training program you will notice a huge difference from your regular training. A proper diet and training plan can go a long way. You always want to stay focused and having a plan to follow can also help to motivate you. It is a lot easier to get up and get going when you know when to get up and where to go. Having a schedule of your training along with a schedule of your meals is not a bad life to transition into. While it is hard for many people to pick up and live the gym lifestyle, you can slowly work your way into it.
Benefits of a Wrestling Strength Training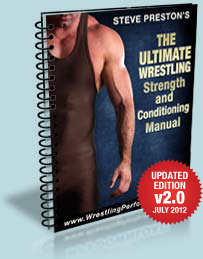 You should always be working on your strength. Strength is a long term commitment that can show slow benefits over a long period of time. The sooner you start, the sooner you are on your way to a progressive wrestling strength training program.  Improving your strength will have an impact on your takedowns as well as your ability to control an opponent. As the stronger wrestler you will feel more in control when clinching up and working for takedown.
You can also improve the power of your shot with a proper strength training program. The more you work on your wrestling strength the easier it will be to shoot in and take your opponent for a ride. Wrestling strength is a very specific grappling strength that many of you have experience facing someone much more advanced than yourself. I had a Jiu Jitsu coach who was a state wrestling champion in college and he had some incredible strength on the ground. All it takes is a solid plan and the ability to stick to it.
Ultimate Strength Wrestling

I have paid many private coaches and trainers in the past and costs can add up. Individual sessions, counseling,  its like every time you ask your trainer a question it costs you money. I have done some research and tried out a few guides and I really like the Ultimate Wrestling Strength and Conditioning manual. The guide is a goldmine for specific information on how to improve your wrestling strength. There are plenty of great and unique training tips that give you a new perspective on your training.
You may be a great wrestler with great technique, but can a stronger wrestler pin you easily? How great would it be to have the tools you need to always be the stronger opponent. There are many great things that come with this guide including a nutritional guide. If you want to know what foods you should be eating to improve your wrestling, this guide has a ton of information. A proper diet can give you the energy you need to train hard and efficiently. You will notice yourself feeling better and better about your workouts with a great diet plan.
Rating:

You Will Learn
How To Peak For Wrestling And Keep It All Season!
The Pretest Method of determing what your wrestler needs to train!
How To Train Youth Wrestlers… And Why It's So Important To Get It Right!
Why High School Wrestlers Need To Have Their Own Training System!
Why Jogging Is Hurting Your Wrestling Perforance… And What You Can Do About It!
How To Keep Strong During The Inseason!
How To Develop Faster Takedowns!
The Truth About Increasing Your Speed On The Wrestling Mat!
The 4 Phase Training System To Prepare For Your Next Season!
2 Intensity Techniques Every High School Wrestler Should Be Using In Their Training!
How To Prevent Overtraining With My 'Rotation for Recuperation' System!
2 Shoulder Exercises You Must Do As A Wrestler To Pin More Opponents!
Why Wrestlers Should Train As If They Were 'Rear Wheel Drive Muscle Cars' For Best Results!
How To Train During The Preseason So You Are Strong And Conditioned On The First Day Of Practice!
A High Intensity Training Program Designed For Wrestlers That Will Get You Strong As A Bull In Only 4 Weeks!
How To Warmup For Practice Without Making Your 'Muscles Slow and Sleepy!'
Training Tactics For Wrestlers To Prevent Injuries!
Pictures Of Each Exercise So You Know Exactly What To Do… And You Can Get Started Today!
… And So Much More!!
Owner of evolvedMMA.com. I am a Certified Personal Trainer who trains Mixed Martial Arts. I review any and everything. I sometimes bet on fights!
Latest posts by Travis Williams (see all)