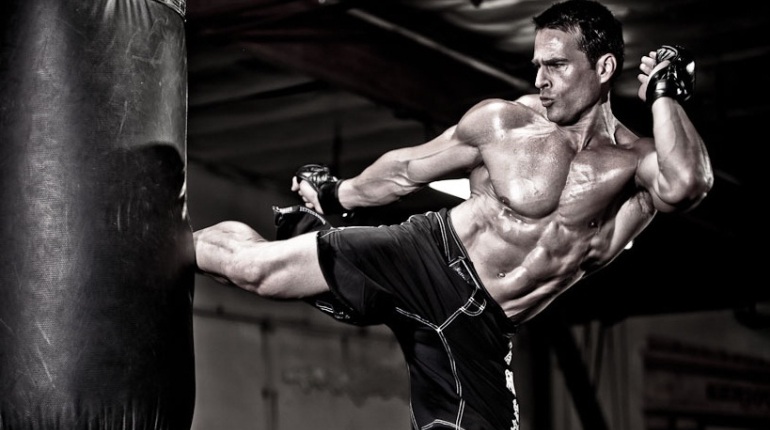 Mixed Martial Arts is an awesome sport that has been rapidly growing in popularity. Between some of the big name promotions like UFC and Bellator Fighting Championship, MMA has fans all over the world getting more into the sport. Like any other sport, if you're interested in watching you may have an interest in participating in the sport. While most people don't play tackle football during Thanksgiving, there are slower paced versions of mixed martial arts combat. If you are interested in learning mixed martial arts, you may have trouble finding a reputable gym or school in your area. Many boxing or kickboxing gyms will offer MMA programs, and some traditional martial arts schools will have an MMA class. However it is hard to find a real MMA fight gym that truly has a coach and team with experience. While you can get a decent amount of knowledge from your typical martial arts school, odds are the Karate teacher has never fought an MMA bout.
Only $9.95 per month.
Online MMA Training Programs
Now a lot of fighters end up training under several different roofs. Typically they will have a place where they practice striking(boxing, kickboxing), and sometimes a separate place for grappling like a wrestling club or a Brazilian Jiu Jitsu School. If you really want to learn MMA, it can get really expensive trying to find a variety of teaching in one place, or a cost effective way to cross train at multiple gyms. If you're a little short on cash to pay gym fees or school tuition, you may want to consider online MMA training at home. You can save a lot of time and money by consolidating all of your training and having the freedom of doing your training at home.
Rating:

There are many different outlets you can use that will teach you how to train for MMA at home. Many people have a YouTube series, or a website offering articles and videos. They even have compatibility for your phone, so you can take your MMA training anywhere. While many of these programs are great, the things they lack is structure. Sure I can find some decent boxing footwork drills, and a couple videos that will help me with my triangle chokes. But without structure you lose comprehensive learning strategies and can slow down your learning process overall. We have searched to help you find the best online MMA training program.
How to Train for MMA at Home
We have searched through many of the online learning sources for MMA and have found many great providers. There are many established YouTube channels and websites offering great content. However they all had one thing in common they lacked, and that my friends was completeness. We searched through many online MMA training programs and we found the best to be Damage Control MMA.  We found one of their best features to be the power to train anywhere with their smart phone and tablet apps. Your online MMA training can be taken almost anywhere with you, that's awesome!

The Damage Control MMA online training program really impressed us with their complete catalog of training videos. Mixed Martial Arts requires a lot of different skills in striking, grappling, as well as mental toughness. The quality of learning you will get from Damage Control MMA is really above the rest we have seen online.
The striking videos cover all of the most important points for your standup game. Boxing and footwork is really stressed which I find to be extremely important. They offer a good range of kickboxing  as well as wrestling techniques from standing position. I really liked how they covered the differences in stances when working with boxing and Thai boxing techniques. They really don't cut any corners with these videos which really adds a lot of value to the whole program.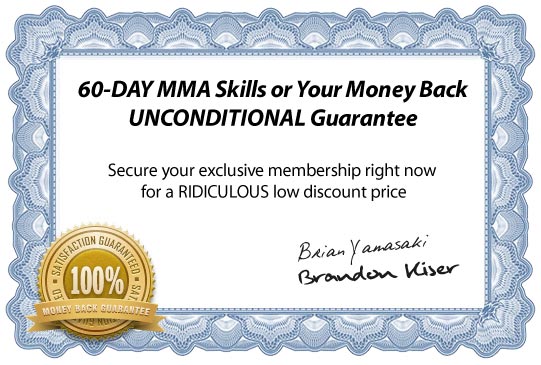 The combination of wrestling and Brazilian Jiu Jitsu portion of the training is excellent. It is hard to find BJJ teacher that can teach out wrestling, as well as a wrestling coach that can teach you excellent submissions. The emphasis on ground defense is really great for people getting into learning MMA. Most people skip the defensive videos when browsing YouTube and don't really build up good defensive habits.
These videos are a great way to improve your MMA training at home. Whether you are looking to save money on your training, or you don't have training available in your city, these videos are just the thing you need to get going. Damage Control MMA is really well priced at around $10 per month and they offer an awesome 60-Day Unconditional Money Back Guarantee. This program is great for beginners or someone looking to supplement their training at the gym.
If you are interested in subscribing to Damage Control MMA it is very affordable.   Monthly – Only $9.95
Rating:

Massive Video Library – Over 400 videos with weekly updates
Train 24/7 – On your computer, phone, or tablet
All Aspects of MMA – Boxing, BJJ, Muay Thai, & Combat Submission Wrestling
Access to Instructors – Ask questions, upload videos for feedback, & request new technique
Free Bonuses – Downloadable version of Fight Core DVD & MP3 training rounds
Free Bonus #1
Fight Core MMA training DVD with guest instructors including: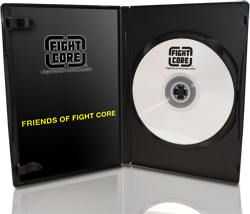 UFC Veteran Josh Burkman
TUF & Bodog Fighter Kyacey Uscola
UFC Veteran Derek Downey
Team Quest & Xtreme Couture jiu-jitsu coach Dennis Davis
Entire DVD contents available in downloadable formats for Windows, Mac, iPhone & Android.
Free Bonus #2 
Three Pack MP3 Audio Drill Set. It's like having a live instructor right there with you round after round.
Boxing Rounds
Boxing Round 1 (3:00 minute round)
Boxing Round 2 (3:00 minute round)
Boxing Round 3 (3:00 minute round)
Boxing Round 4 (3:00 minute round)
Boxing Round 5 (3:00 minute round)
Thai Boxing Rounds
Thai Boxing Round 1 (3:00 minute round)
Thai Boxing Round 2 (3:00 minute round)
Thai Boxing Round 3 (3:00 minute round)
Thai Boxing Round 4 (3:00 minute round)
Thai Boxing Round 5 (3:00 minute round)
MMA Rounds
MMA Round 1 (5:00 minute round)
MMA Round 2 (5:00 minute round)
MMA Round 3 (5:00 minute round)
MMA Round 4 (5:00 minute round)
MMA Round 5 (5:00 minute round)
Owner of evolvedMMA.com. I am a Certified Personal Trainer who trains Mixed Martial Arts. I review any and everything. I sometimes bet on fights!
Latest posts by Travis Williams (see all)