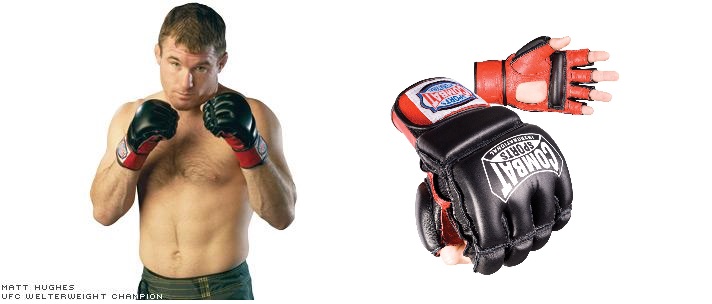 MMA Bag Gloves
I have been training a lot of different striking arts over the years from Kung Fu, to Karate, Kickboxing of many varieties and I have also done plenty of cardio kickboxing workouts as a fitness instructor. Versatile heavy bag gloves can help enhance your training and allow you to do more things. Sure you can do your striking training with regular gloves but the MMA Bag gloves will offer more wrist and impact protection which will benefit your wrists in the long run. If you look in my gym bag I have like 5 different pairs of gloves, shin guards, and cups all for different occasions. It can get expensive, but if you spend your time buying your training gear you can get quality pieces that will last you a while.
When I'm doing bag or pad work I like to use my MMA bag gloves because they give me the open finger option which is very convenient for many things. It also closer resembles the gloves I would use in competition. Regular Boxing or heavy bag gloves are great for rounds of striking practice and other drills for boxing and kickboxing. However I typically like to use my MMA bag gloves so I can grab the bag and work in some knees and other attacks. It also helps me when I need a drink of water or when I have to take a leak.  When you are buying MMA bag gloves you want to find something that is going to offer wrist protection as well as hand protection for impact.
Top 5 MMA Bag Gloves
Title MMA Gel Bag Gloves
Okay if you have done any kind of striking before you have probably hear of Title MMA gear. They have been making Boxing equipment for years and now they have many different MMA products that are really great quality items. These bag gloves have a gel lining that helps you take impact as well as offer a comfortable fit. The padding of the glove covers a lot of the hand which can be nice for some heavy MMA training.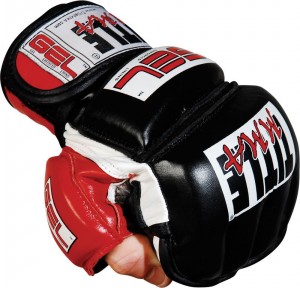 The wrist wrap on this one is nice and thick and will fit snugly along with your regular had wraps. The gloves come in two sizes and the typical red/black Title design. This is an awesome pair of bag gloves for around $50. I have a few pairs of Title Boxing gloves as well as some of their MMA gloves and I am very satisfied with the equipment.
Comfort:

Fit:

Protection:

Value:

Combat Sports MMA Bag Gloves
Combat Sports is a great brand that usually offers some items at really affordable costs. I have used several different pieces of equipment from their gear list and I haven't had any issues really. These gloves are great for MMA training and they will keep you protected round after round on the heavy bag. I have used these for bag and pad work as well as ground and pound practice.  These gloves cover a good majority of your hand which is great for all types of training.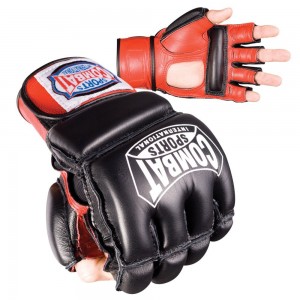 The gloves cover most of your finger which is nice, sometimes I wear the skin off my knuckles if I do a lot of bag work. The gloves have a grip bar for extra comfort, they are very padded and the wrist strap is nice. These gloves come in 3 sizes and you can get them for about $40. If you are on a budget, this is one of the better priced pair that offers a great quality. The gloves are very comfortable and they will work great for heavy bag or pad work.
Comfort:

Fit:

Protection:

Value:

Warrior MMA Bag Gloves
These Warrior gloves have really impressed me. I feel like I borrowed my pair from a friend a while ago and never returned it, oops it happens. I really like the nice thick glove with a very comfortable fit. This glove offers additional padding which is great for pad work as well as striking the heavy bag. I really enjoy these for mitt work because they don't feel too bulky yet they are nice and padded. The grip bar on these gloves are nice improve the comfort.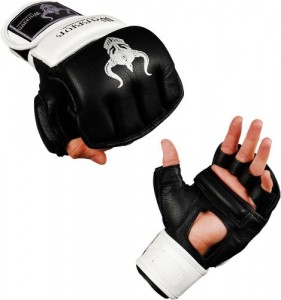 The gloves fit like most 7oz gloves and are really comfortable. They come in black/white and 2 different sizes. They are only about $50 which isn't a bad price for gloves that are gonna last. I like the wrist strap on these gloves and the overall fit is very comfortable. They don't move around too much and they fit nicely on my hands. I have these gloves in my gym and I use them quite often. They haven't worn that much and I feel like I got many more years out of them. They are great for all types of striking training.
Comfort:

Fit:

Protection:

Value:

RDX Leather Gel MMA Bag Gloves
I recently started using a few different pieces of gear from RDX and I have't had any complaints. These Gel bag gloves are really comfortable and really durable. These 7oz gloves are great for all types of training and I recommend them to a lot of different people. The wrist strap on these is really secure and offers a superior fit. It doesn't really have a grip bar but the gloves are very comfortable and they are nice and padded. I really like the wrist support as well as the sleek design. I use these with my RDX shin guards a lot when I am doing mma training.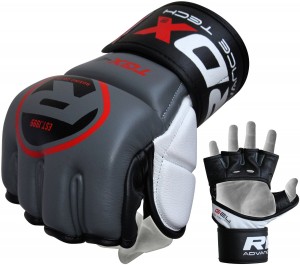 These RDX gloves come in 4 sizes and I have seen them in different colors as well as 4oz gloves floating around on the internet. Their gloves are pretty awesome, and I plan on using mine for  a while. The gel padding is nice, and the leather is nice and durable. These gloves are about $45 and I think they are well worth the price. If you like these gloves I recommend you check out some of the other products that RDX makes, they really have some quality gear.
Comfort:

Fit:

Protection:

Value:

Everlast Training Gloves
I got these gloves a few years back when I was working as a personal trainer. I used them for my clients for mitt work and other workouts. I thought they were great because they slip on easily and offer a lot of wrist protection as well as impact protection. I use these for sparring sometimes as well as bag work. They are great for mitts, and I also have a lot of my students use them when I taught at a traditional martial arts school. They are a great all around glove and they are pretty cheap. Everlast makes some decent gear and it is always affordable.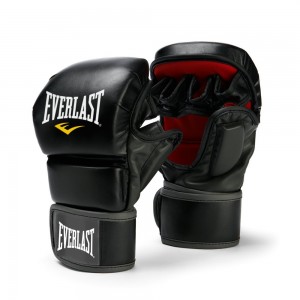 These gloves are nice and padded and work great for sparring gloves. I like them for mitt work as well, especially when I am focusing on technique. They offer padding for most of the hand and a nice curved fit for a natural fist. You can get these gloves for under $30 which is great for beginners or ballers on a budget. If you have a lot of gear to purchase, this might be a nice option to help you save some money upfront. I have use plenty of different Everlast MMA products and they are all pretty good.
Comfort:

Fit:

Protection:

Value:

Owner of evolvedMMA.com. I am a Certified Personal Trainer who trains Mixed Martial Arts. I review any and everything. I sometimes bet on fights!
Latest posts by Travis Williams (see all)