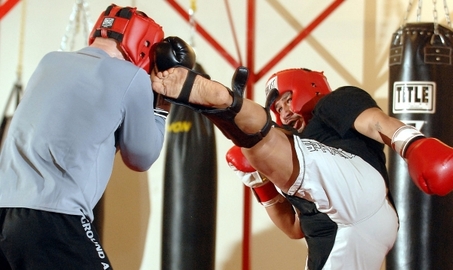 Whether you're into kickboxing, grappling, or mixed martial arts you should probably train with MMA shin guards. Many fighters will train in Muay Thai shin guards and some prefer grappling shin guards which stay in place a little better. There are many good brands and you don't have to spend a lot to get some of the best MMA shin guards. You should first decide your training level and base your purchase off that. If you don't train that often or that hard you may not need to stretch your dollar to get the best shin guards for MMA training. Shin guards come in a wide variety of styles, sizes, colors, and prices so it is important to do a little research before you purchase.
You should avoid running down to the sporting goods store and purchasing whatever they carry because it's usually garbage. A lot of stores like Wal Mart and Sports Authority are carrying cheap MMA gear but they aren't carrying quality discount martial arts gear. Also if you're training at a gym or other facility they may offer their product for you. Just know there is probably a high markup on the item and not a lot of variety. Check out our list of the best MMA shin guards on the market today.
The Top 7 Best MMA Shin Guards
Revgear Leather Shin Guards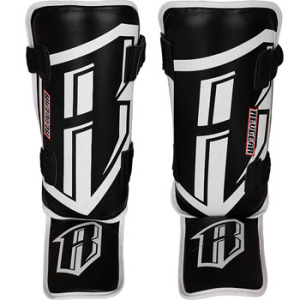 If you want to skip over the cheap stuff these Revgear Gear leather shin guards may be just the right fit for you. They have a nice secure  and tight fit which is great for grappling, kickboxing, and MMA. Revgear is a great brand because they have awesome quality gear intended for experienced fighters. If you're looking for a quality MMA shin guard definitely check these out. These are great for general training and because they aren't bulky they don't get annoying as easily. The Ultra-Lock hook and loop straps on these provide a really great fit.
I really like how comfortable these shin guards are even after you strap them on tight. I like the shin and foot coverage for sparring and drills. You will be able to strap these guards on tight for some heavy sparring.
Comfort:

Fit:

Protection:

Value:

Venum Challenger Shin Guards
These Venum MMA Shin Guards are really great for all around training. With two velcro straps on the back you can get these MMA shin guards on pretty tight. Nothing is more annoying than having to constantly adjust your shin guards during a sparring session. These shin guards are a little on the thicker side to offer more protection. These are great for beginners or anyone who can't quite take a lot of punishment to the legs. If you want something that is going to last and keep you very protected while sparring, this might be the pair for you.
Comfort:

Fit:

Protection:

Value:

Hayabusa Mirai Shin Guards
If you are looking for the very top of the line in shin guard technology, we may have the perfect find for you. The Hayabusa Mirai series offers some excellent pieces that have impressed us very much. These shin guards fit better than almost any other pair of guards I have ever tried on. The shin guard offers a unique Boa Closure System.
The padding on these things are amazing. They have you covered from all aspects comfort, protection, and fit. These shin guards feel like they are a part of your leg after you strap them on. If you can afford the top of the line or are looking for better than the rest, give these a try. Everything by Hayabusa is impressive and their Mirai series is one of my favorites.
Comfort:

Fit:

Protection:

Value:

Bad Boy MMA Shin Guards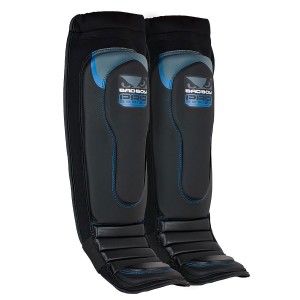 One of the most popular pair of shin guards for MMA has to be Bad Boy shin guards. These are made for grappling and offer a really great secure fit with their neoprene wrap. These are a very comfortable pair of shin guards whether your striking or grappling. They offer a slimmer fit and are really lightweight which is always nice to have for faster paced training and full MMA training. I have even seen these used at some traditional martial arts schools because they are a great simple pair of martial arts shin guards.
Comfort:

Fit:

Protection:

Value:

Hayabusa Tokushu Shin Guards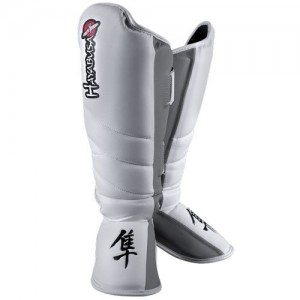 If you are looking for higher end MMA gear, try one of the excellent choices by Hayabusa. I have been using Hayabusa gear off and on for a few years, ever since I started training MMA. I recently picked up a pair of these shin guards and I absolutely love them. They fit very well on your shins and they don't move around much. These shin guards have excellent coverage and provide great protection. These are great for heavy sparring, standup or grappling. If you are looking to get something a bit nicer that will last you a while I would definitely check these out. They cost just over $100 and you will definitely notice the level of quality right away.
Comfort:

Fit:

Protection:

Value:

Venum Instep Shin Guards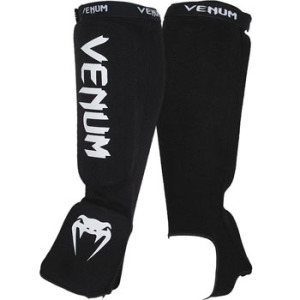 These Venum instep shin guards a great option at a great price. For under $30 you can get a pair of decent shin guards that cover the shin and instep area. These shin guards come in black which is great for hiding dirt and blood stains. These are good for all around general training and they offer a simple slip on fit. This is great for beginners in a variety of martial arts. These are by no means meant for hard core training, and you probably won't see many professionals training with these. These are great for beginners or ballers on a budget.
Comfort:

Fit:

Protection:

Value:

Meister Edge Leather Shin Guards

One of our favorite brands at Evolved MMA is Meister, they make some of the best MMA shin guards. These Meister MMA shin guards are a really high quality and well worth the price. If you have been training a while and you are looking to get a really god pair of shin guards, you should check these out. Great for striking and kickboxing and they have a really nice fit.  They have a gel padding and a very secure strap system which makes this product extremely comfortable and reliable for sparring. This is a great purchase that will last you in the long term. These may be one of the best MMA shin guards.
Comfort:

Fit:

Protection:

Value:

How To Put On A Shin Guard MMA
Safety First
It is important to condition your shins which will allow them to take more damage overtime. Training a lot with a heavy bag is a good way to condition your shins, with or without your MMA shin guards. However, you should know your limits so you don't overdo it. A lot of people go a little too hard and end up injuring themselves which pulls you away from your training. So it can be less effective to go harder. Figure out your limits, keep increasing the intensity overtime and eventually your shins will be solid. Always focus on kicking with proper form, and train a lot with your MMA shin guards.
Muay Thai shin guards, work just the same for striking however if you include grappling in your training you may want something that has a better hold. Not all Muay Thai shin pads are designed to withstand grappling and wrestling. However, most MMA shin guards will hold on just fine through some sparring and grappling. Just make sure you choose one that suits your training for the best MMA shin guards.
Owner of evolvedMMA.com. I am a Certified Personal Trainer who trains Mixed Martial Arts. I review any and everything. I sometimes bet on fights!
Latest posts by Travis Williams (see all)