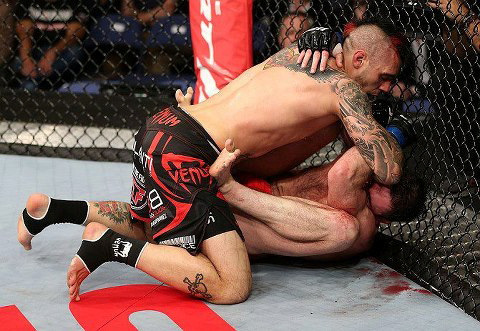 MMA Ankle Support
Mixed Martial Arts can be a damaging sport if you're not careful. Everybody gets injured in some way or another, however you can always take precautions to avoid some injuries. A common area that gets injured for beginners are the wrists and ankles. Your wrists and ankles need time and work to become strong and you can make sure to keep them safe while you train. When  you go multiple rounds on the heavy bag, you always wanna wrap your hands to prepare your wrists for the heavy punching. You might want to take a similar approach to your ankles when you are going to using them a lot. Fighters can twist their ankle when kickboxing or it is pretty common when wrestling. You always want to make sure you are careful with your footwork because even Drake knows a sprained ankle isn't anything to play with. I have put together a list of low cost MMA ankle support wraps.
Best MMA Ankle Support Wraps
Venum Ankle Support Guard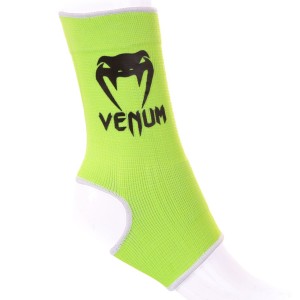 I first tried out these Venum ankle wraps when I was taking a Muay Thai class a few years ago. I was coming off an ankle sprain I endured in a wrestling class and I didn't want to re-aggravate the injury. The ankle guards work great for striking and they aren't too bulky. They really help me move around on my feet without slowing down my footwork. Sometimes you can get ankle wraps that are too big or they cover too much of your foot and can affect your game.
These Venum Ankle Wraps come in several different colors and you can get them in two sizes. They are very well priced and can be purchased for around $15. Even if you aren't going to be using them all the time, this is something that would be good to purchase and keep in your gym bag in case of emergencies. You can't go wrong for only $15 and you can get this one in some cool colors.
Comfort:

Fit:

Protection:

Value:

Revgear Ankle MMA Ankle Wraps
If you are looking for a solid pair of mma ankle support wraps check out this pair by Revgear. They are know for making quality MMA equipment and I really like the way these feel. The offer a few different colors with the same basic style. These are also great Muay Thai ankle wraps for when you are practicing striking. I always recommend MMA practitioners carry extra braces for when they are nursing an injury.
A brace can help you train even when you aren't 100% with certain body parts. These Revgear ankle wraps are great for providing extra protection and stabilization to your ankles. These are really comfortable and they fit very well. If you are looking for something under $20, this is a great pair of ankle guards.
Comfort:

Fit:

Protection:

Value:

Hayabusa Ashi MMA Footgrips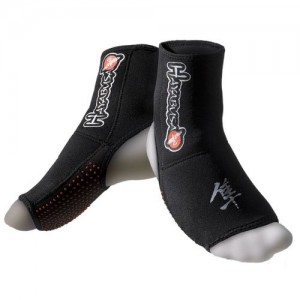 So the Hayabusa Ashi Footgrips are a little more elaborate than your standard ankle wraps. These are a little bit thicker and are meant to cover more of your foot. The bottoms of these provide additional grip which can benefit in some training environments where you can't get good traction. These are much nicer than most ankle wraps because they offer a nice padded and secure fit.
If you are looking for something that is going to do more than just support your ankle, these might be for you. If you want your ankle wraps to give you more mat traction, check these out. The Hayabusa Ashi wraps cost about $40 but they are a great quality that will last.
Comfort:

Fit:

Protection:

Value:

Meister MMA Ankle Support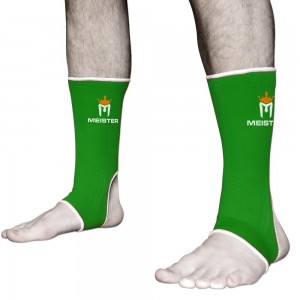 I use a lot of Meister gear because it is quality stuff at a decent price. They make a lot of MMA accessories that can benefit your training. Their hand and ankle support wraps are quality items. These MMA ankles wraps are very comfortable and they slip on easily. These ankle support wraps come in several colors and a one size fits most type deal.
You can get a pair of these wraps for under $15 which is a great price for quality training gear. If you need something to help support your ankles when sparring or to help you nurse an injury, these are a great choice. I would also recommend you pick up a pair of Meister wrist wraps if you don't have one already. They aren't expensive at all and they make really good quality wraps.
Comfort:

Fit:

Protection:

Value:

Twins Special Ankle Guard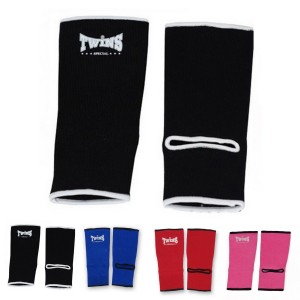 Twins is a pretty big name in the striking arts because they make some quality gear. I am a huge fan of their kickboxing and Muay Thai gear, and these ankle wraps are great too. I like the simple design that slips easily onto your foot. The wrap provides a great secure level of protection which will help your ankle stability in practice.
The Twins Special Ankle Guards come in two sizes and four different colors. You can purchase them for about $20 which is not a bad price for ankle support guards. I really like how these fit on my ankle and I don't feel like they limit my footwork in any way. If you are looking for a quality brand, check out these ankle wraps.
Comfort:

Fit:

Protection:

Value:

RDX Ankle Wraps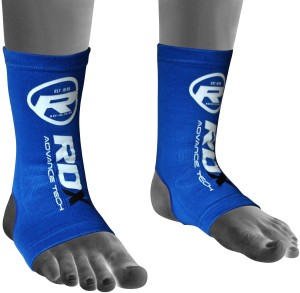 These are a great buy at a great price. These RDX Ankle Wraps have been designed to fit snugly and tightly on the ankle giving it excellent support. I really like to stability these provide to my ankles. They don't cover too much of your foot which can get annoying. I have used a few different gear pieces from RDX and I have liked each of them.
These ankle wraps come in two different sizes and they come in blue. You can get them for about $13 online which is a great price for ankle wraps. I recommend these if you want something that is going to fit comfortably while you are sparring or moving around on your feet. I have seen other styles and designs of ankle wraps from RDX but I like these the most.
Comfort:

Fit:

Protection:

Value:

Strengthen Your Ankles
There are some exercises and stretches out there that can help you improve the overall health and ability of your ankles. If you work on improving the strength and flexibility of your ankles, you won't be as susceptible to injury and you won't need to rely on an ankle wrap as much. It is important to include your ankles when you warmup as well as when you cool down. Check out some different ankle exercises to help you work on ankle stability. Some of them you can do with or without your MMA ankle support wraps.
Owner of evolvedMMA.com. I am a Certified Personal Trainer who trains Mixed Martial Arts. I review any and everything. I sometimes bet on fights!
Latest posts by Travis Williams (see all)