I am becoming a big fan of Submission FC gear. They have sent me a few things to try out this year and I have been really impressed with their gear. They strive to make really comfortable Jiu Jitsu gear, and they really do succeed. The company is based out of California where they make their Ranked Rash Guards. They make a lot of great gear for grapplers and BJJ practitioners. I recently reviewed another one of their lightweight Gis and I was really impressed. The Bamboo Frenzy Gi is one of the most comfortable Gis I have ever worn. I have been rolling more and more with my Submission FC gear because it is lightweight and very durable. Recently Submission FC reached out to me to review their Submission FC Mania Gi and I was quick to accept the offer.
Submission FC Mania Gi Review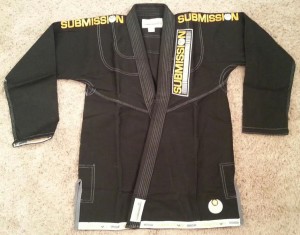 Submission FC has make a lot of excellent Gis experimenting with different materials to make comfortable Gis. They have used things like Hemp and Bamboo to create softer fabrics for the Gi. The Mania Gi however is made out of cotton with a traditional pearl weave fabric like most other Gis. The Mania Gi seems to be an update on the original Submission Light Gi which has been around for years. You can definitely tell this is a quality product from the feel to the design. It is very sturdy for a lightweight Gi and it has a lot of reinforced stitching. The Gi is preshrunk and has a premium competition fit. The top is a 450GSM Pearl Weave and the pants are about 10oz. I really like the Logo and the colors on this one, it really sticks out on my black Gi. The top fit me very well and the sleeves were the perfect length. Sometimes I can have trouble finding a Gi that fits well being tall and lanky.
The pants were impressive in a few areas. I really like the length and feel on the pants. They are pretty lightweight but they are very durable and the knee pads are great. The knee pad covers a lot of area which is great once you get moving around a lot. I really like the rope draw string which is held up by 5 belt loops. The A3 size fits me very well and I am 6'3″ 150lbs so it can be hard to find something that isn't too baggy.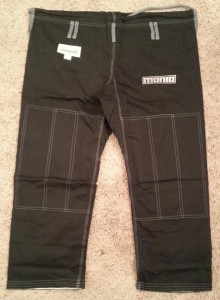 The Submission FC Mania Gi comes in Black, Blue, and White in sizes A0-A5. The Gi has a pretty average price at $150 and can be purchased in a couple places online. This Gi is IBJJF approved and is competition ready. This is a new Gi in Submission FC's line of competition ready Gis and it is definitely an impressive one. If you are looking for a great Gi for your next Jiu Jitsu tournament, this is a great option. Or even if you are looking for a great day to day lightweight Gi, this one is great for all around training. This Brazilian Jiu Jitsu Gi also comes with a cool Gi bag.
Comfort:

Fit:

Quality:

Value:

Owner of evolvedMMA.com. I am a Certified Personal Trainer who trains Mixed Martial Arts. I review any and everything. I sometimes bet on fights!
Latest posts by Travis Williams (see all)