Shock Doctor Cup
Shock Doctor is a pretty well known name when it comes to mouth and groin protection. They offer many different protection products at a great rate. Shock Doctor makes products suitable for almost every sport, and they offer a variety of items for various needs. They make a few different cups for men and women with many different fitting options. They make jock straps, compression shorts, pants, and other various pieces of training gear. I am also impressed with their variety of mouth guards which cover many different needs. When I first got into training I bought Shock Doctor gear because it was affordable and I have been pretty satisfied with the product. So I decided to write a Shock Doctor cup review for my readers.
This Shock Doctor cup isn't the best in the world but it is a great product for the price. If you are new to training you are going to eventually learn you need a bunch of gear. There are plenty of gear items that can benefit your training and saving money can be an important thing. This Shock Doctor BioFlex Cup with the compression shorts is a really great deal, and it will save you some cash for other purchases you are going to need to make. At such a low price it also makes a great spare cup if you want to throw your other one in with the wash.
Shock Doctor MMA cup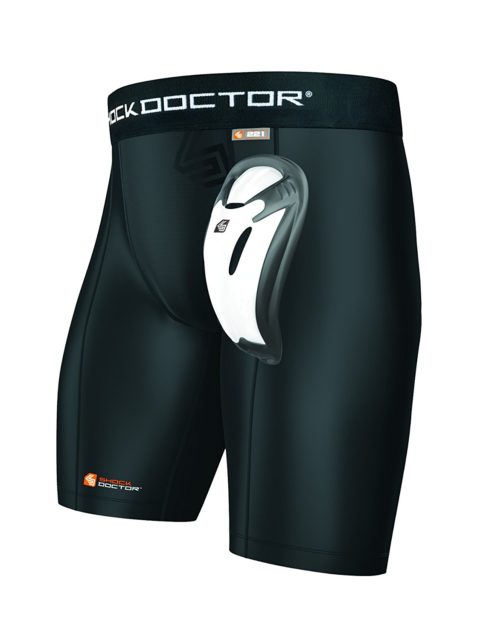 This cup is nice and thick which offers great impact protection. The cup is designed to fit comfortably around your junk in the compression shorts. The compression shorts offer a nice snug fit and they help to hold the cup in place. You will be able to take some pretty hard shots to the groin with this Shock Doctor MMA cup, hopefully none of them are intentional. You can buy the cup by itself but for like $20 dollars you can get the cup and the compression shorts. This Shock Doctor cup has been featured on our top 5 MMA cup list and has been a proven and tested product. If you are looking for a great MMA cup at a great price, this is an excellent option.
The compression shorts come in Black or White in 5 different sizes. Shock Doctor also offers different compression and  jock options if you prefer. They also offer a few different protective cups if you prefer a different fit. I'm not much of a fan of the jock strap, and I always prefer the compression shorts. They are more comfortable I think, and they also hold the cup in place better. You should be able to find the products you need in adult and children sizes for both men and women. All of their products are very well priced and they have pretty good customer service.
Comfort:

Fit:

Protection:

Value:

Always Wear Your Cup
Especially if you're competing in the ABB. Check out the double-hexagon.
Owner of evolvedMMA.com. I am a Certified Personal Trainer who trains Mixed Martial Arts. I review any and everything. I sometimes bet on fights!
Latest posts by Travis Williams (see all)