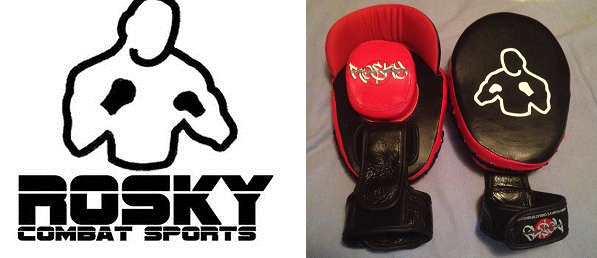 If you have been training any combat sport at all you will understand there are different pads for different situations. I recently came across a company that makes focus mitts specially for MMA training. These mitts have a very interesting design and have proven to be very effective for MMA training. These gloves are designed to compensate the transition from striking to grappling. I find it refreshing to find innovative products on the market that bring new aspects to training. I contacted the owner of the company and asked for a sample product to review. They sent me their Deluxe RCS MMA Mitts for my Rosky mma mitts review. The deluxe mitts costs $55.99 and Rosky aslo offers a couple different models for their MMA mitts with similar pricing. These are an excellent training tool for anyone who trains striking and grappling.
Rosky MMA Mitts Review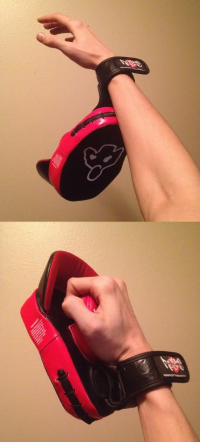 I was first impressed with the unique design and overall functionality of the MMA mitts. I looked at a couple videos of the mitts before they came in the mail just to see how they worked. At first I thought the snap-back feature of the Rosky MMA mitts was going to take some getting use to. However it is very simple to do and I picked it up right away. The wrist strap is adjustable so you can find the perfect length for the mitt to swing. It makes the snapping back options almost impossible to fail if you adjust it properly. Instead of slipping your hand inside of a glove and then securing it with a wrist strap, the Rosky mitt relies in you to hold the handles on the back. They are a very comfortable design and also provide the ability to comfortably throw punches back at the person you are holding mitts for. They even have a padded area that covers your hand on striking. I noticed the mitts provided the effect of slipping boxing gloves, pretty cool.
The wrist strap is what makes these mitts so special. The wrist strap allows you to drop the mitts for a moment and snap them back to your hands for continued striking. This means while you are training someone you can have them execute a striking combo, then you take them down so they can work on their defensive striking from the ground. There are many different striking to grappling and grappling to striking transitioned that can be easily practiced with these MMA mitts. I have used focus mitts in the past for MMA training, however these are nothing like anything else I have used.
These mitts are have a great ability to avoid strikes as well. I tested these mitts out with very hard punches, elbows, kicks, and even knees. These mitts are very tough and will hold up through some heavy striking. This was good news for me when I had a much heavier guy raining down punches into to Rosky MMA mitts. If you want to learn more about the company and products, check out RoskyCombatSports.com.
Comfort:

Absorption:

Usefulness:

Value:

Check out there website at RoskyCombatSports.com.
Owner of evolvedMMA.com. I am a Certified Personal Trainer who trains Mixed Martial Arts. I review any and everything. I sometimes bet on fights!
Latest posts by Travis Williams (see all)