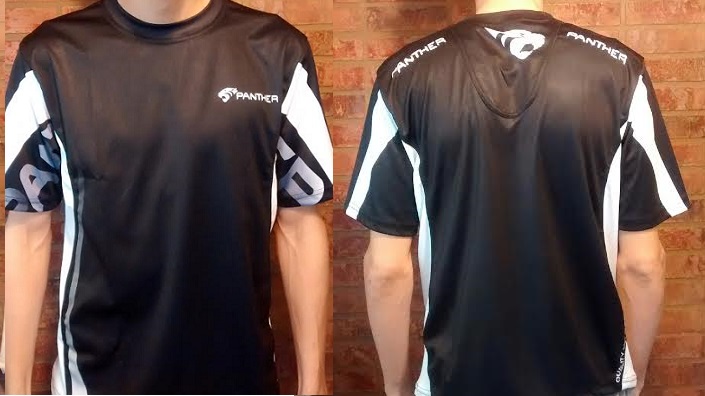 I recently came across a company that I thought was very cool. Panther Fightwear has been making MMA training clothes since 2013. They offer some really cool designs and some really great products. Panther Fightwear makes training gear for MMA, BJJ, general fitness and they even sponsor some pro fighters. I got interested in the company and I wanted to try out some of their gear to review for my readers. I contacted the owner and asked for some samples and they sent me one of their "Power Dry" Shirts to try out. The first thing I noticed about this dry shirt was the design. I am always a fan of gear that looks cool because all MMA training gear should look cool. The "Power Dry" dry shirt is black with white trim and has some cool sublimated designs(not stitched). The shirt offers a very sleek design but has way more to offer beyond that.
Panther Fightwear Power Dry Shirt Review
This shirt is meant to be looser fitting and it is also meant to stay dry during some intense training. If you have never worn a dry wicking shirt during your training, you are missing out. I can recall in the past working out with cotton shirts and just feeling heavy with sweat after a bit. This shirt fits and feels great when you put it on. The inside is nice and soft and the seems are flat and reinforced for durability. I really like how comfortable this training shirt is. I have had a couple bad experiences in the past with dry shirts and some of them are actually pretty itchy. I like how sift the inside of this shirt is, you forget you are wearing it sometimes.
I will typically wear a loose fitting dry wick shirt when I am not grappling. If I am working on my striking and I am going to be doing a lot of bag and pad work, I prefer a dry shirt. Especially if I am just going to lifting weights or doing something that will make me sweat a lot. The shirt is made from a poly/mesh blend and offers great mobility. This shirt is not limiting in any way and won't restrict movement. The shirt is also anti-bacterial which helps prevent unwanted odors.
Comfort:

Fit:

Dryness:

Value:

This is a great product that I would recommend to any athlete. Great training gear that stays dry when you need it to is hard to find. This is great for any sport especially the martial arts.
I was very impressed with the product Panther Fightwear Sent me. The Panther Fightwear Dry Shirt "Power Dry" is an excellent product for general training and can work for any athlete. This is a great shirt to keep you dry during a heavy training session where you are going to sweat a lot. The shirt is very comfortable and offers a great fit. I would also recommend checking out some of the other excellent products that Panther Fightwear makes. You can find some excellent  rash guards and even MMA shorts. Panther sponsors some Pro MMA fighters and seem to be expanding their reach. I recommend checking them out on twitter or looking at their website. Check out their website here: Panther Fightwear
Owner of evolvedMMA.com. I am a Certified Personal Trainer who trains Mixed Martial Arts. I review any and everything. I sometimes bet on fights!
Latest posts by Travis Williams (see all)