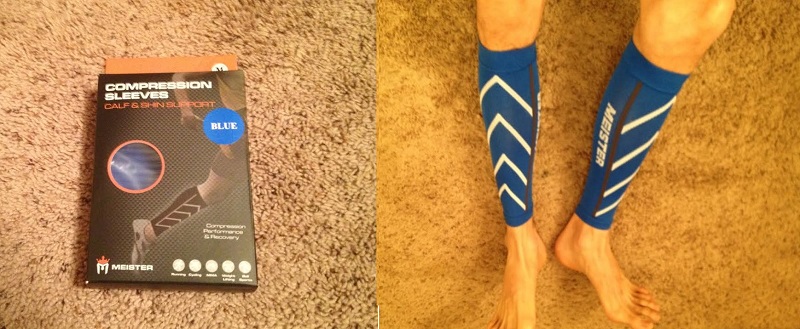 I am personally a huge fan of the many products that Meister MMA makes. They offer a variety of training products for a variety of training. You can find solid gear weight lifting, grappling, striking, and other aspects of your MMA training at a great price. I always encourage people to explore their options when shopping for MMA gear and you may be able to find great gear for cheap. I recently received a pair of Meister's Graduated Compression Leg Sleeve for calf and shin support. I always have different pieces of compression gear for different occasions but I had never used leg sleeves before. They offer a different level of compression that you can't get from compression pants. The focus is on supporting your calves and your shins to improve blood flow and offer support. These leg or calf sleeves have a variety of uses and can transition well into any sport.
Meister Leg Sleeve Review
The first time I put them on was a slight struggle but after I got them on I noticed something. The amount of support these leg sleeves offer is amazing. Suddenly I felt I had plenty of uses for my leg sleeves. I recently moved to Colorado and have become huge on trail running. Now that the weather is warming up I can wear these leg sleeves with a pair of shorts and keep my shins protected during a run. Not only do they provide support for my shins, but protection from sticks, branches, bushes, and other things that can cut you up. I typically don't like running but these Meister leg sleeves definitely make running more enjoyable.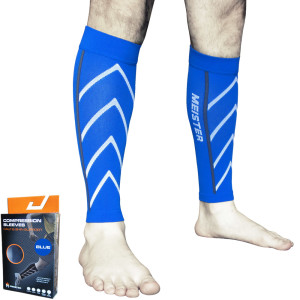 I have included these compression leg sleeves into more aspects of my MMA training. Whether I am grappling with or without a Gi, I am usually wearing my leg sleeves. I always says its easier to get a better grip in your opponent with a long sleeve rash guard shirt. Well these leg sleeves can help you get a better grip with your legs for a variety of submissions. I was impressed with the way these sleeves breathe. I have had some compression gear in the past that just overheats you and turns into a sponge for sweat. These leg sleeves offer great ventilation and won't encourage sweating.
Comfort:

Fit:

Protection:

Value:

If you are a fan of compression gear for your training, this is a great piece. You can use the Meister Leg Sleeve for many different aspects of your training and they only cost around $20. I also recommend checking out the other excellent training gear offered by Meister MMA. They have many of the key pieces of training gear you need for Mixed Martial Arts. Make sure you check out the size chart before you order your pair. They are meant to fit on very tight so they stay in place, but you want to make sure they aren't too tight. If they are too tight you might experience a lot of discomfort and if they are too loose they won't serve their purpose. Take a look at the sizing chart below by Meister MMA.
Owner of evolvedMMA.com. I am a Certified Personal Trainer who trains Mixed Martial Arts. I review any and everything. I sometimes bet on fights!
Latest posts by Travis Williams (see all)