I am really a fan of Fightlab gear. They make some quality Muay Thai and MMA training gear, and I have gotten to test out a few of their products. Recently I reviewed their Muay Thai Gloves which I have been using a lot more lately. I use their handwraps with the gloves and its a great combo. Something else they sent me to test out was a great weight cutting or weight loss tool. The sweat suit. This is a key tool for dropping all of that water weight before a fight trying to make the requirements of your weight class. I have used a couple of these before in the past, cheap ones you can get at Wal Mart. I didn't realize how bad those ones were compared to a quality sweat suit. The Fightlab sweat suit is a really great design and an excellent quality. They sent me a cool camouflage design so I can hide in nature while I cut weight.
Fightlab Sweat Suit Review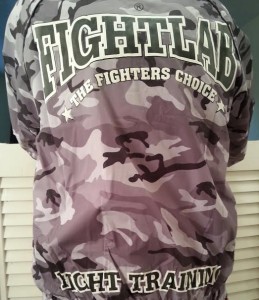 Well there aren't many things to talk about for a sweat suit so I will start with the basics. The Large size fits me very well and I am over 6 foot tall. The cuffs for the pants and the sleeves hold very tight which is ideal for getting the best results from the suit. The zipper is nice and solid and doesn't seem like it will break easily. I have seen some of these suits with a really flimsy zipper that gets busted so easily. I really like the design, they have a Fightlab logo on the chest and a larger one on the back.
I noticed a mesh lining in the jacket under the arm and a similar one in the pants on the inside of the legs. Its really helps you move around in the suit and gives a better range of motion. I like this because I will do some Yoga in the suit to get my flexibility going while my muscle are the warmest.
The sauna suit fits very well and seems like it can accommodate plenty of different sizes. I am really impressed with the gear from Fightlab and this sweat suit will replace all of my other ones. I recommend checking out Fightlab products if you can. They sponsor some big name fighters and they really do make some quality gear.
Comfort:

Fit:

Quality:

Value:

Owner of evolvedMMA.com. I am a Certified Personal Trainer who trains Mixed Martial Arts. I review any and everything. I sometimes bet on fights!
Latest posts by Travis Williams (see all)