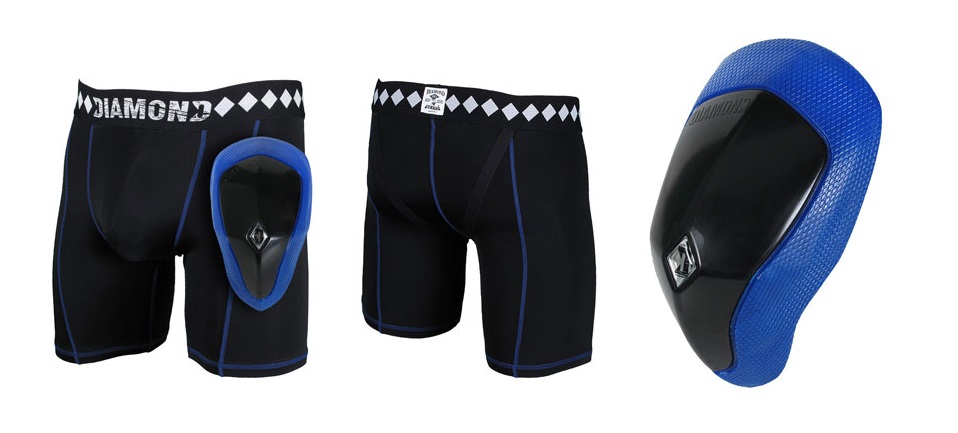 Diamond MMA Cup Review
If you train any sport you probably benefit from wearing a cup. Combat sports can be pretty unforgiving to your nuts. Sometimes I see guys in the gym that rarely wear a cup when they spar. Not only is that not safe, but please don't grapple with me if you plan on grinding your unprotected junk on me. If you are just getting into training you should  take your time buying equipment so you can get quality gear that will last. A cup is one of the most important pieces of gear you need and probably one of the first. MMA training can get expensive but if you have a large gym nearby they usually have some of the external equipment you can borrow, you're probably not going to want to borrow someone's cup. I decided to make Diamond MMA cup review after featuring it on my list of the best MMA cups.
I have worn many a cup on my junk and the Diamond MMA cup is one of my favorite gem holders. This cup provides a very comfortable fit along with a very high level of protection. If you are having trouble finding an adult size that fits correctly, this one has been pretty accommodating. If you are currently using a Shock Doctor Cup, this one is a pretty big upgrade in comfort and protection. The Diamond cup is one of the most sturdy MMA training cups and has helped me through some pretty hard shots. I have been a huge fan of this cup, that is why I had to do a Diamond MMA cup review.
MMA Training Cup
Whether you are working on your kickboxing your your grappling, this MMA cup will help you keep the boys safe. The protection this cup offers is comparable to the steel Muay Thai cup, however it is much more comfortable. The Thai cup requires you to have a string tied up your crack like a thong, and typically you need someone to help you tie it. The Diamond cup you can just slip into some compression shorts and put on one leg at a time.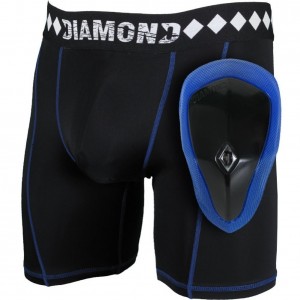 I have found after using several different brands of MMA cups, the Diamond MMA cup quickly became my favorite. The compression shorts are very comfortable and they offer a unique fit that helps hold the cup into place. I have had issues in the past with my cup shorts holding my cup in and awkward spot that made some groin shots more painful. I haven't have any big issues with the Diamond MMA cup holding in place or causing discomfort during any training.
Comfort:

Fit:

Protection:

Value:

Wearing a Cup for Striking
Striking arts like Boxing, Kickboxing, Karate, Muay Thai, TaeKwonDo, and other martial arts often involve striking that can damage your groin. You want to make sure you are always wearing the proper protection when you can. I have seen some people that need to take a few weeks off after taking a shot to the groin that was just too much. It can be damaging so it is important to always be properly protected in training as well as competition.
Wearing a Cup for Grappling
Wrestling and Jiu Jistu are sports that involve a lot of grinding and quick movements that can usually result in damage to the groin. You want to make sure you wear a cup for your own safety, also as a courtesy to your training partner. No one wants you to rub your junk on them through some sweaty compression shorts, wear a cup. I first purchased my Diamond MMA cup when I started training BJJ and it has served me well for a while now. Many UFC fighters seem to be picking up a Diamond MMA cup which is good news for their groins.
Best MMA Training Cup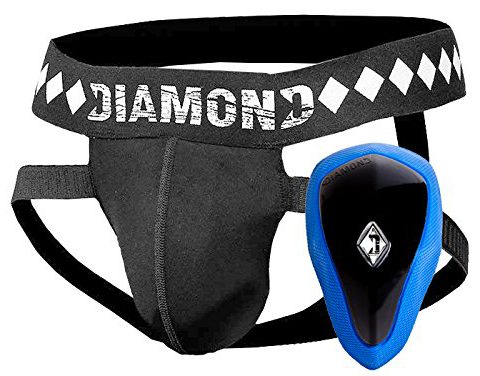 The Diamond MMA cup is made out of co-molded Elastomer with a Polycarbonate core for the cup. This outer part is a nice flexible rubber-like piece to help you fit the cup into place. The core of the cup is very solid and is great for high impact and heavy shots. For around $30 you can get one of the best cups for MMA training available.

Diamond MMA also sells compressions shorts as well as a compression jock, but if you have your own shorts already you can get the cup for a great price. I recommend getting the Diamond MMA compression shorts because they are very comfortable and work very well with the Diamond cup. The compression shorts have some straps on the inside that help the cup fit and stay in place. This is great news if you have issues with your cup moving around too much in a pair of cheap compression shorts.
If you are new to training or you have been training for a while, this is definitely a great buy and it is something that will last you a long while. Check out this excellent piece of mma training gear. This is a great product for anyone who trains combat sports, I hope you benefit from my Diamond MMA Cup review.
Owner of evolvedMMA.com. I am a Certified Personal Trainer who trains Mixed Martial Arts. I review any and everything. I sometimes bet on fights!
Latest posts by Travis Williams (see all)