For many people getting into Mixed-Martial Arts you realize there will be a lot of gear you need for training and competition. These Everlast MMA gloves are perfect for a beginner on a budget. They will last you a long time and can definitely hold you over until you need to upgrade. Everlast has been making quality boxing and kickboxing gear for years and their MMA gear is great too. Check out some of the many products they offer for MMA training, fitness, competition, and more.
Low Cost Everlast MMA Gloves
 Almost 1″ of padding for the knuckle area.
All of the seams and finger holes are reinforced.
Hook and Loop wrist strap for security and wrist support
The cuff is elastic for a perfect fit.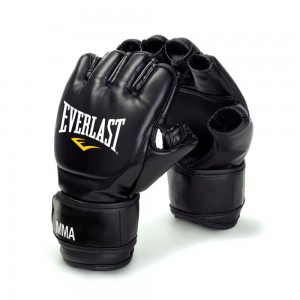 These 4 oz gloves are very close to what you see in a pro fight, and some pro fighters even use these gloves. It is really easy for someone to spend too much money trying to get what they believe are the 'best' gloves. Just understand what you need and understand cheap isn't always a bad thing.
These gloves come in Small/Medium or Large/X-Large in the color black. Many people use these gloves strictly for grappling or ground and pound grappling. These gloves will help take your training to the next level. These gloves are also ideal for anyone on a budget, you can get this pair for close to $20
If you are looking for something a little less for grappling and a little more for striking the Everlast Pro-Style MMA Gloves may not be a bad option. These are also a great option for anyone on a budget looking to get MMA gloves for less than 25 dollars.
Premium synthetic leather, durable, long lasting
New design with refined glove padding provides a more ergonomic fist shape for comfort
EverDri Technology- the lining absorbs moisture to keep you dry
Full wrist strap for sizing and support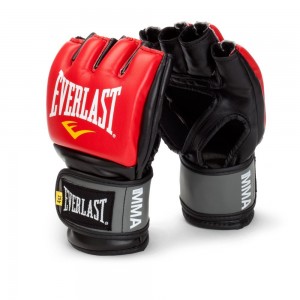 While these are similar to the other pair, they are a slight step up for striking and are closer to competition style MMA gloves. These gloves feature the EverDri feature by Everlast which means they are built to stay as dry as possible and absorb moisture. These are 4 oz gloves and they come in all black or black with red. These gloves come in two sizes as well, Small/Medium and Large/X-Large. You can get these gloves in any size or color for under $25. Perfect for a hobbyist or anyone on a budget looking to save money on mixed-martial arts gear. Don't make the mistake of spending too much when you can get quality at a great price for these Everlast MMA gloves.
So maybe you've been training a while or you have more money to spend and you want to get a better product. The Everlast EverGel MMA Gloves are a great option for just under $30. These gloves are a nice step up from the other Everlast gloves.
EverGel – made to protect your hand from impact and protect your knuckles when training
Contoured Closed Cell (C3) Foam and EverGel for protection when training at full force
Full wrist strap made for a perfect fit and wrist support
Featuring EverDri and EverGel to keep you comfortable and dry when training.
These gloves are great for beginners and advance fighters. If you train MMA and you are looking for a more comfortable gloved with more features than your average gloves, Everlast has made this for you. The glove fits very comfortably with the EverGel technology and will stay dry with the EverDri feature. These gloves are great for grappling and ground and pound training. They are also made to protect your knuckles and wrist when striking a heavy bag at full power. The EverGel dissipates the impact causing less damage and stress on your hand.
Owner of evolvedMMA.com. I am a Certified Personal Trainer who trains Mixed Martial Arts. I review any and everything. I sometimes bet on fights!
Latest posts by Travis Williams (see all)