One of the most important pieces of protective gear is your mouth guard, well maybe your cup, but also your mouth guard! Whether you train in Boxing, Kickboxing, Jiu-Jitsu, BJJ, or MMA you are going to need a mouth guard. An MMA mouth guard is going to to protect you from biting your tongue as well as the inside of your cheek. It is also there to help prevent you from getting your teeth knocked out which is pretty cool too. There are also studies that show how using a mouth guard can help prevent other oral injuries as well as injuries to the head. You should pretty much just wear a mouth guard whenever you're training any kind of combat sport.
Check out the updated Best Mouth Guard for MMA 2017 list.
If you train a lot or you are really serious about your training you may want to consider a custom MMA mouth guard to get a perfect fit. However this can be very costly for someone getting into training so you may want to stick with a cheap MMA mouth guard. A mouth guard is going to cost you anywhere from $5 to over $100 depending on what you want. We have taken the courtesy of finding you the best mouth guard for MMA at a reasonable price including an MMA mouthguard review.
The Best Mouth Guard for MMA
Damage Control Mouth Guard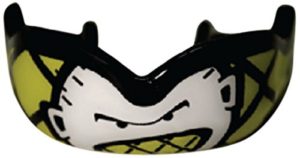 Damage Control Mouthguards offers some of the coolest designs for mouth guards I have ever seen. They make 3 different types of mouth guards including High Impact, Extreme Impact, and Custom Mouth guards. Their basic boil and bite mouth guards come in many different designs so you can get something to fit your personality. The Damage Control High Impact mouth guard is a great all around mouth guard. The Extreme Impact mouth guard is larger and provides more protection than the high impact guard. I have been using the Damage Control Extreme Impact mouth guard for all of my heavy sparring lately and I have been really impressed with the product. If you want more information, I go into a little more detail on my Damage Control Mouthguard Review.
Damage Control also offers a custom mouth guard if you are looking for something a little more serious. You can get the custom mouth guard made to have your own design, or custom text on the mouth piece. You can even get a 3D design like adding real fangs to your mouth guard. With the custom mouth guard you get an impression kit that you use to make an impression of your mouth. You send the impression to DC Mouthguards and then they make your custom mouthguard. If you are looking for a basic boil and bite or a more professional custom mouth guard, DC Mouthguards offers it all.
Comfort:

Protection:

Value:

SISU Mouth Guard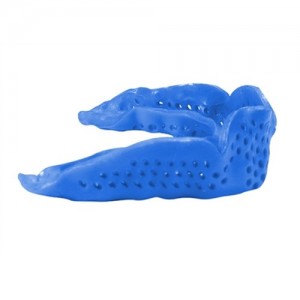 One of our favorite mouthguards comes from SISU mouth guards. They offer a very unique style of mouth guard with many features that really enhances your training. These guards are great because they are made smaller, with less material, yet they are more durable. Their mouth guards come in 3 compact sizes Jr Guard(kids), Aero Guard(1.6mm) and the Max Guard (2.4mm).
I recommend the SISU Max Guard adult mouth guard for everyday intense or light training. This mouth guard is tough and will last round after round. The smaller size allows you to talk, breath, and hydrate with ease. I can't tell you how many times I've had to pull my mouth guard out to finish a sentence, you know what I'm talking about. The Aero Guard is great for an even smaller fit which is great for Brazilian Jiu Jitsu. Most people prefer to use it in class when going over technique, it helps you to better communicate with your partner to make sure you're doing the moves correctly.
Another great thing about SISU MMA mouth guards is the variety of colors they offer. You can get your mouth guard in about ten different colors -insert "taste the rainbow" joke- which is pretty awesome. You can get this guard for about $25 – $35. For more information check out our SISU mouth guard review.
Comfort:

Protection:

Value:

Venum Challenger Mouth Guard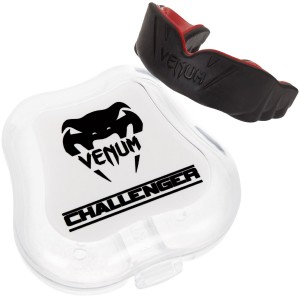 If you're a fan of the sport MMA, you have most likely heard of the Venum brand. The make a range of combat gear and sponsor many athletes. Well this mouth guard is definitely up there with quality. This is a very protective guard that also provides a nice fit. This mouth guard has a Nexfit gel frame for adjustment, and the outer shell is a high density rubber. I really recommend this mouthguard for a heavy day of striking. It is really tough and you can breathe well with it.
This Challenger mouth guard is a great price at around $15 and comes with a mouth guard case. That is a pretty good deal and it is convenient to not have to buy those separate. I will say for some people the face this guard has an outer shell for protection that sometimes this shell can feel like it sticks out if you don't get a good mold on it. Make sure when you fit this mouth guard it doesn't feel like it pushes your upper lip out. However when fit properly this thing works like a dream.
You really don't have to spend a ton of money to get a good mouth guard for MMA training. You can get this one under twenty and have some left over money for something else on your mma gear list.
Comfort:

Protection:

Value:

TapouT Mouth Guard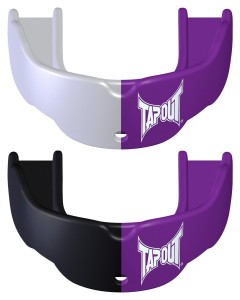 Tapout MMA Mouthguards are definitely one of the more popular options amongst MMA fighters. No matter what your level of MMA training is, a Tapout mouth guard can definitely do the job. I love these MMA mouth guards because they are easy, cheap, and simple. They are great for MMA and BJJ, and even make a great boxing mouth guard.
When you order these you get 2 mouth guards for the price of one. They include two bi-color mouth guards and straps if you need. They are easy to boil and bite and you get a second one in case you ruin the first one which is great! These single bite MMA mouth guards are low profile so they don't make your top lip stick out like a weirdo or something.
These come in many different color combinations and Tapout also makes some cool designs like a Mouth Guard with Fangs. If you're looking for a low cost durable product, this may be a great option for you. These can be used with or without braces and you can re-fit it to your mouth several times if you make an error.
For around $10 – $15 you can get a nice pair of MMA mouth guards for yourself or for you and a friend.  Check out these Tapout Mouth Guards and the other mixed martial arts equipment they offer. The MMA mouth guard reviews are great like many of their products.
Comfort:

Protection:

Value:

Shock Doctor Nano 3D Mouth Guard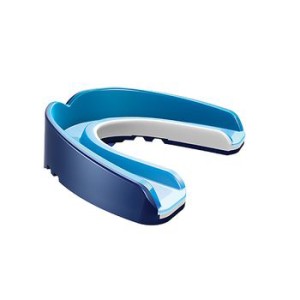 If you are looking for a mouth guard that doesn't limit your speech a lot, the Nano 3D is a great option. Some mouthguards can be so large that when you speak, no one can understand you. So this slimmer option is designed to be very durable but made with less material. I believe this is the smallest mouth guard that Shock Doctor makes.
This mouth guard is made with multiple layers for added protection and comfort. You will notice the excellent fit right away. And the fact that this mouth guard isn't bulky will allow you speak and breathe easy during training. You also won't have a dribbling problem while taking a drink.
Comfort:

Protection:

Value:

Fight Dentist Triumph Mouth Guard
Fight Dentist mouth guards are scientifically designed by scientist and they really do offer a great mouth guard. You can find their mouth guards in a variety of different colors and styles but this Triumph Mouth Guard is an excellent choice. This mouthpiece offers a great fit for striking or grappling training and doesn't limit your ability to speak.
You will have an easy time breathing with this mouth guard in and you will be able to take some heavy shots. This guard is a great size to bite down when fighting hard. Its not too big or too small and really helps keep your chompers safe.
Comfort:

Protection:

Value:

Shock Doctor Mouth Guard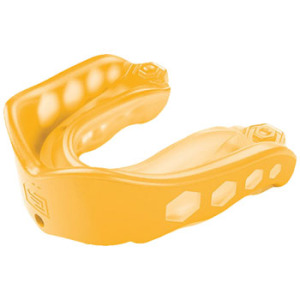 Shock Doctor is one of the most popular names for MMA protective gear. Shock Doctor provides many different styles of mouth guards as well as many different colors. The Shock Doctor Adult Gel Max strapless mouthguard is a great single bite option for combat sport athletes. This Gel Max mouth guard is very comfortable and shouldn't give you any discomfort if you spend the time fitting it properly.
These mouth guards are great because they are low cost and long lasting. If you are just getting into training and you don't want to drop a lot of money on an expensive  or custom fit MMA mouth guard, this should be a great option. This mouth guard is great, but it isn't perfect. One issue we have with this mouth guard is the size. It is a littler larger than I like but I will typically use a low profile guard. I always have a couple extra mouth guards for MMA in my gym bag just in case, and this one is great for a back-up or for beginners.
If you're looking to save money and get a mouth guard that will last you for a long time then the Shock Doctor Gel Max is a great option for you. At just under $10 you can get a perfectly good mouth guard for any sport. Check out the different colors they offer and pick one that fits your personality.
Comfort:

Protection:

Value:

Shock Doctor Fitted Mouth Guard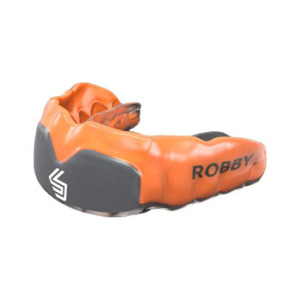 Of course you can get a variety of items from Shock Doctor at discount prices, however their Fitted Mouth Guard is one of the best products they make. It is one of the highest rated mouthguards for any sport and makes an excellent mouth piece for MMA training. They create the mouth guard using a mouth of your teeth in their Shock Doctor Lab.
Each mouth guard is inspected by a dental professional and offers the perfect fit to your mouth. You can get this mouth guard in many different colors and styles. Ask anyone who has used this guard about the quality and comfort. Everyone who has used this mouth guard has plenty of positive things to say.
Comfort:

Protection:

Value:

MMA Mouth Guard Care and Cleaning
It is really important to clean your mma mouthpiece before, after, and sometimes during use. Trust me, your mouth is a gross disgusting place. For most mouth guards you can clean it with regular soap and water, some people even use a toothbrush with toothpaste. They are pretty easy to clean, but you don't want to stick it in the dishwasher or it will warp and not fit anymore. After a long day of Jiu Jitsu practice your mouthguard will be really gross, so don't skip a wash because that thing goes in your mouth dude.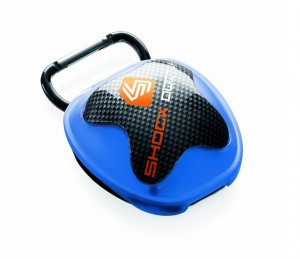 You should also get a case your your mouth guard. I doubt the bottom of your gym bag is a clean place to store your MMA mouth guard. I highly recommend getting a Shock Doctor Anti-Microbial Mouthguard Case which clips onto your gym bag or fits into a pocket. Rinse your mouth guard after you're finished training and stick it in the case. Then you should take it home and wash your mouth guard as well as the case to keep germs away from your mouth. This case is pretty handy and pretty cheap. Some mouth guards will come with a case so you don't have to worry about one but this is one of the better cases we've seen sold.
Owner of evolvedMMA.com. I am a Certified Personal Trainer who trains Mixed Martial Arts. I review any and everything. I sometimes bet on fights!
Latest posts by Travis Williams (see all)