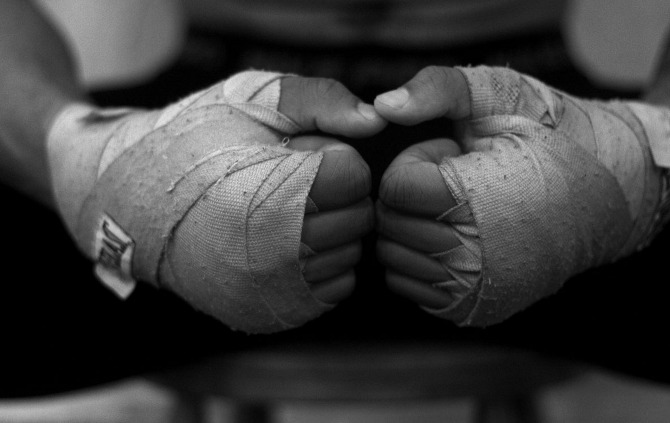 When you are training any combat sport it is always important to consider safety. Wearing safety gear when training and competing is going to preserve your health so you can participate in the sport longer. What are the best MMA hand wraps and how do they help? Wrapping your wrists for MMA is important to maintain the health of your wrist, hands, and fingers. Wrapping your wrist can prevent sprains, breaks, and hyper extensions of the wrist. Hand wraps or wrists wraps come in different styles, lengths, colors, and more. You can find wrist wrapping useful for boxing, kickboxing, MMA training, and more.
Best MMA Hand Wraps
Meister Hand Wraps
One of the most popular brands and what many people believe to beat the best wrist wraps for MMA are the Meister MMA Wrist Wraps. These wraps come in many different colors and design that can be chosen from. Meister is a well reviews, highly popular company for kickboxing, MMA, and boxing hand wraps.
Meister makes quality products and you can get these wrist wraps for just a few dollars. Check out their colors and choose the one that best fits your personality! These are some of the best MMA hand wraps I have used and they come at a great price. I would recommend you check these out if you need a lot of color options.
Rating:

Revgear Hand Wraps
I like these 180″ Revgear hand wraps because they are very durable and come in a few different colors. These are a really great quality with a few nice features. They have a thumb loop as well as a "this side down" indication which can help beginners. The velcro strap on this thing is no joke and will help to keep your wraps in place while you using your hands. These are some of the best mma hand wraps for the price and they are a solid design.
I would check out these gloves and maybe a pair of Revgear gloves if you have never used a pair. Revgear makes some excellent quality MMA training gear and these wraps are no exception. You can get these for around $10 and they will last you a good while so check out a few colors. These are great wrist wraps for the advanced fighter as well as beginners. Even if you are just taking cardio boxing classes, these are a great pair of wraps.
Rating:

Bad Boy Stitch Premium Hand Wraps
While you can say that most hand wraps are the same to a certain extent, these are just a little more unique than the rest. If you watch the UFC you may be familiar with "Stitch" the cutman and guy who wraps fighters hands before the bout. Well this line of hand wraps is really impressive with the extended 196″ length and 2″ width. There is a thumb loop and the velcro on this thing is great. I like the way these feel after a tight wrap.
While it would be nice to have stitch himself wrap my hands I doubt I could afford it. These wrist wraps will offer you great protection and a secure fit. If you're looking for the best mma hand wraps, who better than Stitch to wraps your hands. These extended hand wraps are good for certain occasions and can benefit any level fighter.
Rating:

Hayabusa Wrist Wraps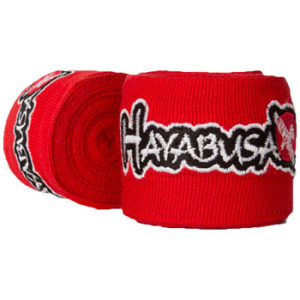 A very big name in MMA gear, Hayabusa makes great products all around. They make their MMA hand wraps in many different colors at a great price. If you want the gear the pros use, look no further. Haybusa sponsors many pro UFC fighters and other big names in MMA. You will notice the superior quality right away. These elastic hand wraps have excellent breath-ability as well as a secure fit. They are 180″ and 2″ wide which is pretty standard for MMA training.
You can get these mma wrist wraps for a great price and you can get them in your favorite color. These hand wraps offer a perfect stretch and a comfortable fit. These are easy to wrap and align perfectly on your hands. You will really notice the quality the first time you wrap your hands up. These are some of the best mma hand wraps and they also have a few color options.
Rating:

Everlast Hand Wraps
Typically you will find wrist wraps in two lengths, 108″ and 180″. While most MMA hand wraps are the same, you can find expensive and cheap wrist wraps. Boxing hand wraps and MMA hand wraps are essentially the same and intended for similar use. Many fighters like the longer Mexican hand wraps, but the shorter length ones are easier to put on and manage.
You need to constantly hang your hand wraps to dry after using them so if you train a lot, managing them can become difficult. You can get a 3-pack Everlast Hand Wraps for a great price. If you're looking for a great low cost options, these might be the best mma hand wraps for you.
Rating:

How To Put On MMA Wrist Wraps
There are many videos you can find online that will teach you how to put on MMA wrist wraps.  There are many different ways to put on your wrist wraps so find a method that suits you. Most people build a foundation for what needs to be wrapped up and follow a similar pattern every time. I would say it is important to revisit your method for wrapping your wrists if you find them sore after training. Wrapping your wrists is meant to keep you from injuring and making them take less wear and tear overtime. If you wrap your wrists regularly and include stretching and other exercises to keep your wrists healthy, you should have a long lasting training career. It's always good to have MMA hand wraps inn your gym bag, I typically carry a couple pairs.
It would be a bummer to suffer a chronic wrist injury if you could have prevented it by wrapping your wrists and keeping them healthy. You should always wrap your wrists when working with a heavy bag, sparring with hard contact, and doing a lot of mitt work. You should wrap them also when you are grappling if you are practicing with strikes; while you aren't hitting as hard you can still damage your wrists with all of the striking. You should always wrap your wrists when striking something that will give a lot of resistance. Even if you are wearing MMA or Boxing gloves that provide wrist support, wrist wraps are crucial.
Remember to hang your wraps up when you are done so they can dry out. If you stick them in your gym bag and leave them when they are sweaty, they will smell and be full of germs. You can even get sick from your nasty wrist wraps. If you need to wash them try putting the wraps into a sock bag and make sure you can dry them thoroughly. I prefer to hang them in the sun to dry but its your preference. Shop around and you can find the best hand wraps for MMA.
Owner of evolvedMMA.com. I am a Certified Personal Trainer who trains Mixed Martial Arts. I review any and everything. I sometimes bet on fights!
Latest posts by Travis Williams (see all)