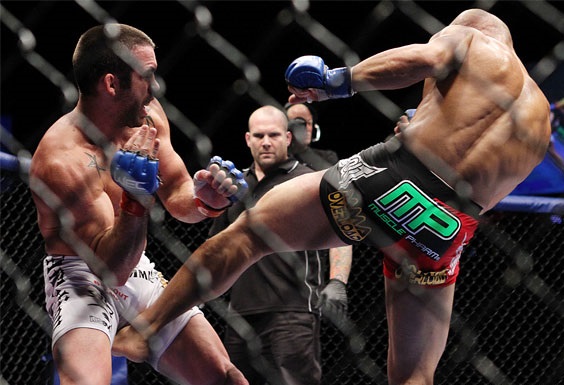 When training Mixed Martial Arts or another combat sport it is very important to wear an MMA cup. There are many different types of cups for different preferences. If you are just getting into training you may just want to pick up a cheap cup to start, and as you become more experienced you may start looking for a new protective cup. One of the most important things to consider when choosing a cup is stability. You want your cup to be durable, but you you also need your cup to stay in place. You don't need your protective cup shifting around taking your boys with it do you?
If you're looking for an updated list check out our Best MMA Cup for 2017.
There are many different types of MMA cup shorts or supporters. You can get the regular jock strap with a cup, mma compression shorts, or just go all out with the Muay Thai Cup that ties into place. I would always recommend you keep a couple different cups in your gym bag. Some people prefer different cups for different things and it isn't too uncommon for someone to have a cup for grappling, a cup for striking, and a separate cup for competition.
Choosing the Best Cup for MMA
Diamond MMA Cup
If you're looking for a step up from the cheap models and you are looking to get the best cup for MMA you can find, check out the Diamond MMA cup. One of the most durable cups on the market, the Diamond MMA cup is extremely comfortable and is held in place very well. The compression shorts with a built in 4-strap jock will ensure your cup doesn't move and keeps you protected. The Diamond MMA cup comes with a high price but if you are serious about your training and the safety of your nuts it's worth it.
This cup is great for Jiu Jitsu and wrestling because it really stays in place. A problem most grapplers will have is there cup shifts around when they are rolling. BJJ is a grinding sport where you try to eliminate space between your opponent. Having a lose cup can cause it to move around and it could even hurt you. My favorite thing about the Diamond MMA cup is its durability. This thing is tough. They even tested it out by driving a truck over the cup to see how it held up. While you may not be expecting to get hit in the groin by a truck, the Diamond MMA cup will keep you safe. Keep your nuts safe with the best cup for MMA. Check out our Diamond MMA Cup Review.
Comfort:

Fit:

Protection:

Value:

NuttyBuddy Cup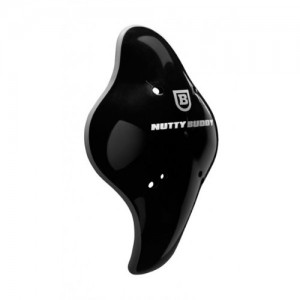 I like the Nutty Buddy cup because it is like no other cup I have every worn. The fit is unique and it protects differently than a conventional cup. You will notice the shape is different and one of the only ways I can explain it is the boys get room to spread out. I feel that with some cups, depending on what I am wearing it can hold everything to tightly in one spot. And this can make cup shots or accidental bumps to the groin even more painful.
This cup claims to be the only anatomically correct cup on the market which is pretty agreeable. It will give you great protection with a comfortable fit.  This cup is available in five different sizes and you can get it for around $20. This cup has won awards for its unique design and has been featured on Sports Science. For more detailed information, read my NuttyBuddy Cup review.
Comfort:

Fit:

Protection:

Value:

Hayabusa Exoforged Protective Cup
Hayabusa always has quality gear for any training occasion. This awesome Exoforged cup is no exception with its cool design and excellent protection. This cup offers a unique lightweight design with plenty of ventilation. Yes, your boys will be able to breathe easy with this cup on for more than one reason.
The cup comes in couple different color options and can be purchased without shorts. This cup will help keep you safe from accidental groin shots and won't cause you to sweat too much. You will notice a difference in comfort when you try this cup on. It fits like no other cup and provide excellent protection.
Comfort:

Fit:

Protection:

Value:

Jaco Guardian Compression Shorts with Cup
If you are looking for a heavy duty cup that comes with an excellent pair of compression shorts, look no further. The Jaco Guardian Compression shorts fit like a dream and really compliment the Jaco cup. I have always liked the way Jaco gear fit and this cup fits like a dream. I really like the protection this cup offers with the amount of comfort.
The cup itself fits great and doesn't move around too much when sparring. The shorts fit nice and snug and help to keep the cup in place. You can get these two for under $50. The shorts come in black in a few different sizes.
Comfort:

Fit:

Protection:

Value:

Shock Doctor Cup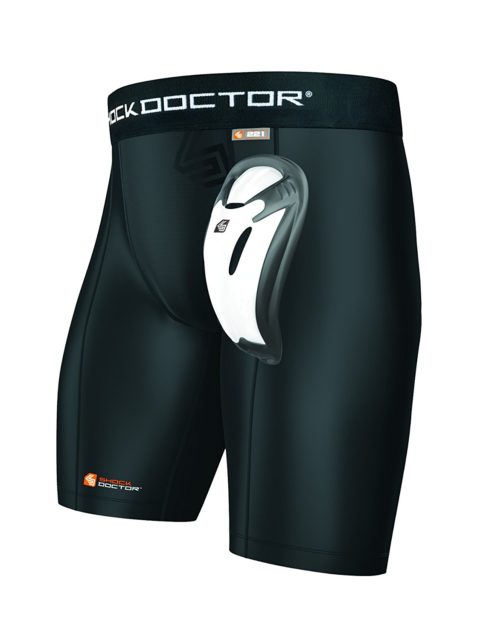 When talking about protective cups, one of the first names that comes to mind is Shock Doctor. They make plenty of excellent protective equipment for athletes of every sport. Shock Doctor offers great products at a great cost, and they are a perfect brand for beginners as well as the advanced. This Shock Doctor athletic supporter with BioFlex cup can be purchased for around $15 and it will give you all the protection you need to begin training mixed martial arts.
This product is probably one of the most popular cups for MMA, and I bet a lot of people in your gym are wearing one. This cup is perfect for practice, and a really great cup to keep as a backup due to its low cost. However, if you are going to be competing in MMA, Kickboxing, or another combat sport you may want something just a little bit tougher. For more information, read my Shock Doctor Cup review.
Comfort:

Fit:

Protection:

Value:

Steel Muay Thai Cup
If you are looking for the ultimate groin protection you may want to try a Muay Thai cup. The traditional Thai cup is made of steel and is secured by tying it onto your body with strings. Muay Thai cups aren't the most comfortable cups but they are some of the strongest cups you can buy. A special method for tying the cup is used and it does involve one of the strings going up your butt crack like a thong. Once you get use to it the discomfort becomes minimal and even unnoticeable at some point.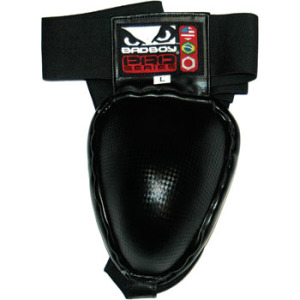 Many of these cups have foam padding and are made with leather for extra comfort and added durability. If you aren't sold on having a string that runs up your crack you can always pick up a pair of cheap MMA compression shorts and slip it in the cup pocket.
The traditional Muay Thai Cup is worn by most Muay Thai Fighters, and it becoming more and more popular with Mixed Martial Artists. You may not use this one for everyday training, but if you want the best groin protection in the cage you should get use to this steel cup. As far as protection and durability go, a steel cup is the best cup for MMA.
Comfort:

Fit:

Protection:

Value:

Shock Doctor vs Diamond MMA Cup
Check out this excellent video that shows the level of protection Diamond MMA provides. You can really count on this cup to keep your boys safe, even if you don't plan on having someone drive over your junk. However that would be a solid commercial. Many MMA fighters wear different cups and have different preferences. However you don't know how well the cup works till you get hit in the nuts.
Owner of evolvedMMA.com. I am a Certified Personal Trainer who trains Mixed Martial Arts. I review any and everything. I sometimes bet on fights!
Latest posts by Travis Williams (see all)