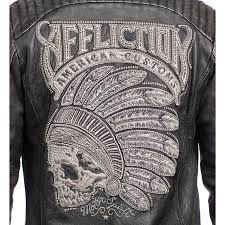 If you are familiar with how the world works, you understand that leather jackets are "cool." Owning one makes you cooler and increases the chance of a hot girl on your arm. Whether you ride a motorcycle or not, leather jackets are warm, stylish, and last a really long time. If you are looking for a stylish leather jacket, check out some of the very cool designs by Affliction. They offer a variety of clothing for MMA fans and their line of jackets is really great. You can channel the coolness of  Sons of Anarchy and be a true badass. Check out these awesome Affliction leather jackets.
Affliction American Rebel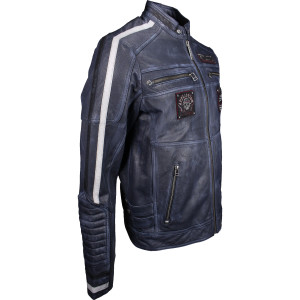 If you are in the market for leather jacket, this one may the coolest option. The American jacket by Affliction looks sick. The design on this thing is amazing and will add a large amount of cool points to anyone who wears it. Its ready for the road or ready to help you fight off all the girls that will be chasing you down for the chance to touch it.
This jacket is an American classic made out of genuine leather. The jacket has nice metal zippers and excellent detail throughout the entire design. You will love to look and feel of this jacket.
Comfort:

Fit:

Style:

Design:

Affliction Full Measure Leather Jacket
Here's another excellent genuine leather jacket by Affliction. The Full Measure Leather Jacket is made out of 100% genuine cowhide and is a limited edition jacket. This thing is ready for riders or anyone in need of a stylish jacket. The jacket provides a great fit and is very comfortable. The metal zippers are nice and there are 6″ zipper slits on the sleeves.
The design and look on this thing is sick. You will get a ton of compliments on the awesome jacket you own. And you know leather will last you a long time. If you are looking to invest in something very nice for your wardrobe, check this jacket out.
Comfort:

Fit:

Style:

Design:

Affliction Recklessness Faux Leather Moto Jacket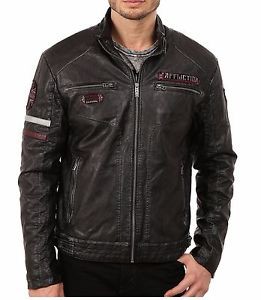 So if you don't really ride a motorcycle or you are truly Ballin' on a Budget, this faux leather jacket may be the choice for you. At nearly a quarter the cost of a genuine leather jacket this faux leather jacket is a great alternative. You can get the excellent look and feel of the awesome Affliction jackets at an affordable cost.
This jacket has nice zipper pockets with an excellent design. This is a very stylish jacket that fits very nicely. If you are trying to up your wardrobe game, this jacket is a step in the right direction.
Comfort:

Fit:

Style:

Design:

Owner of evolvedMMA.com. I am a Certified Personal Trainer who trains Mixed Martial Arts. I review any and everything. I sometimes bet on fights!
Latest posts by Travis Williams (see all)