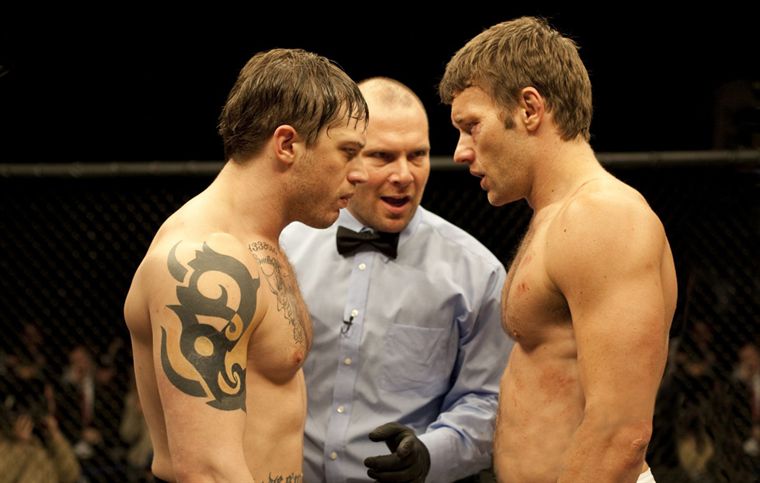 Sometimes watching the best MMA movies can get you in the mood to train. Mixed Martial Arts is a sport that was created within the last few decades and is now a popular worldwide sport. MMA or Mixed Martial Arts is a combinations of the most effective martial arts for combat. MMA Fighters have to ability to transition from boxing and kickboxing to wrestling and submissions. There are many different martial arts that make up MMA but the more common ones include Wrestling, Boxing, Muay Thai, and Brazilian Jiu Jitsu. You will see techniques from many different martial arts, but these are typically the ones more focused on. I know there are many excellent martial arts films out there, but for this list I tried to include specifically MMA based movies. Whether you agree these are the best MMA movies or not, they are all considered excellent martial arts films. If you have a friend who doesn't quite understand the complexity of MMA, maybe introducing them to some quality MMA movies will help them understand the sport.
Top 5 Best MMA Movies
5) Never Back Down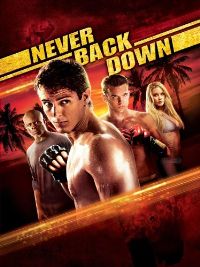 Number five on the list features one of the more well known MMA movies which came out back in 2008. This movie is set in a high school where the new kid comes along and gets his ass kicked for liking the popular kids girlfriend. While it shares a similar plot to most high school movies, it also features some excellent fight scenes. There is a sequel to this movie which is just as good as the first one. However the sequel features Michael Jai White and has appearances from Lyoto Machida and Todd Duffee. These are some of the best MMA movies that are simple and easy to watch.
A film in the series called "Never Back Down: No Surrender" should be released during the summer of 2016. The 3rd film is based in Thailand and looks to include a fight scene between Michael Jai White and UFC heavyweight Josh Barnett.
Rating:

4) Undisputed 3: Redemption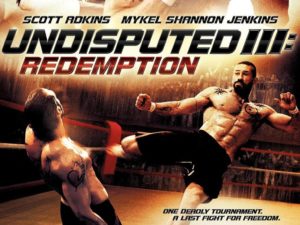 The Undisputed movies are a real treat for any martial arts fan to watch. The original Undisputed came out in 2002 and featured Wesley Snipes and Ving Rhames but had more of a focus on boxing. A sequel came out in 2006 starring Michael Jai White and Scott Adkins which kept the jail fight setting but had more of a focus on MMA. The third movie in the series starring Scott Adkins came out in 2010 and is my favorite of the series so far.
There is a forth Undisputed movie which is suppose to release sometime in 2016 which will keep main character Yuri Boyka played by Scott Adkins. While this series has changed a bit over the years, the films are still very interesting and are recommended to watch by any MMA fan.
Rating:

3) Tapped Out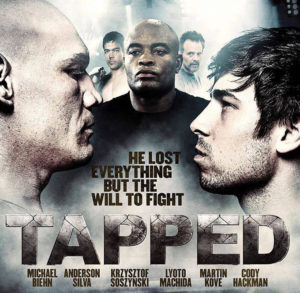 If you are a huge UFC fan and you just want to see some of your favorite fighters in a movie, check out Tapped Out. This is one of the best MMA movies as far as including UFC stars goes. You will see Anderson Silva, Lyoto Machida, and Krzysztof Soszynski who played the final bad guy in Here Comes the Boom. I would also say "Here Comes the Boom" with Kevin James is an awesome MMA comedy with plenty of MMA stars, it just barely didn't make the list.
The story follows a disgruntled teenager who had his parents killed and is forced to do community service at a rundown karate school. He goes to a local MMA show where he sees the man who killed his parents, Krzysztof Soszynski. So after seeing the man twice his size win a fight, he decides he is going to go behind his Masters back and enter the tournament.
Rating:

2) Redbelt
Redbelt is a very interesting I heard about a few years back while taking a Jiu Jitsu class. One of the first things I heard about the film was that Tim Allen was in it. Okay, an MMA movie with Tim the Toolman Taylor–I have to see this. When you get down to the bare bones of it, it is a pretty good movie. The movie is based around a Jiu Jitsu instructor who would make an excellent MMA fighter, but doesn't agree with fighting for money. His wife's family are fight promoters and they make him offers to earn money fighting but he doesn't want to. There is a scene where the star, played by Chiwetel Ejiofor saves Tim Allen who plays an actor in the movie.  They become friends after that, and also their wives become friends even doing business together.
Eventually everything goes bad and the main character is facing huge amounts of debt. If only there was a way he could earn money quickly, like fighting in a cage or something. Eventually he agrees to step into the ring to solve his financial troubles.
Rating:

1) Warrior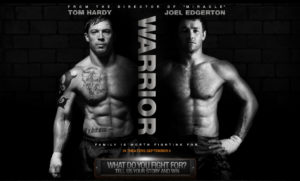 There are a lot of different martial arts movies out there, but I think many people would agree that is is one of the best MMA movies of all time. Warrior came out in 2011 and features a cast of great actors including Tom Hardy, Joel Edgerton, and Nick Nolte. The story features Tom Hardy as a former Marine returning home to his recovered alcoholic former boxer father. He begins to train MMA under his father to prepare for an MMA tournament stated to give out the biggest title prize ever. Joel Edgerton plays the estranged brother who is an ex-MMA fighter and teaches in the movie. He eventually needs to get back into fighting to support his family.
The story leads the two brothers to the same competition chasing the same goal. However they must confront each other in more than one way and discover what tore the family apart. I would say as far as quality films goes, this is one of the best MMA movies. Your non-MMA/UFC fan will have an easier time enjoying this film than most of the others. Mostly because of the quality acting and storytelling this film offers.
Rating:

Owner of evolvedMMA.com. I am a Certified Personal Trainer who trains Mixed Martial Arts. I review any and everything. I sometimes bet on fights!
Latest posts by Travis Williams (see all)