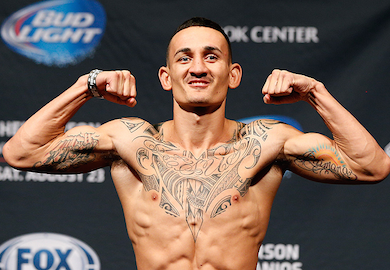 People want to be right, and people have opinions; sports are the ultimate contradiction of the two. Every sporting event imaginable comes with agreements and disagreements; replays or plays that are non-reviewable ; challengeable or not. No matter which side you find yourself, your emotional balance will either be sent to enraged with anger or overcome with joy. Living on such polar opposites of this continuum can be troublesome because we may feel as though we are losing control.
Understanding what is within your control is the necessary mindset of a fighter with the heart of a champion, or it's a mindset that individuals could apply into their everyday living. Though every sport has heart-warming tales, or those of heartbreak, combat sports feature two athletes who control their actions, reactions, and abilities within the time they're given to work. On an episode of Stand and Bang Radio, featuring Yancy Medeiros (11-2-0 1NC) and Max "Blessed" Holloway (12-3-0), Holloway shared his perspective on combat sports, thereby opening a window into the frame of mind necessary to achieve, or deal with failure, in the fight game. The mindset to drive and win, or cope with loss, can, and should, be practiced amongst individuals in day to day interactions with others.
When discussing fighting in terms of sport, Holloway says,
"It's a sport man. People complain about this, or whatever."
He's right! There is no pleasing everybody, and in a sentence describing the pleasing of others, I will always use a superlative to explain that it's never possible.
Holloway would be the first one to tell you that he is "Blessed" to be where he is in his current lot in life. He talked about having tough times and battling through them remembering,
"I've been on the bad end of a decision. People know; people tell me all the time about my fight with [Dennis "The Menace"] Bermudez (15-4-0), but at the end of the day, our coaches always tell us, you can't control what the judges are going to do, you know? It is what it is."
It is what it is. Five words that are equal to only five syllables, yet they encapsulate everything a fighter needs to score a ten round, instead of a nine, or possible eight. The fighter has to realize the situation of the fight and implement the necessary course of action to deal with his or her opponent. The fighter is in control of whatever happens next. Holloway recalled his own dealings with not having control inside the Octagon,
"You don't know how they're going to judge the fight. All we know is we got three five-minute rounds to do our job and get out of there, not leaving it to the judges' scorecards. He's [coach] always telling us as we're walking out there, 'Don't leave that shit to the judges baby, because the judges are going to make you cry.' I had fifteen minutes to finish him [Bermudez], and the decision didn't go my way. At the end of the day, I can't do nothing about it; I can't change it."
Keeping at the forefront of our thoughts where our boundaries of control lie will not only help the fighter step on the accelerator in the third round, knowing he's down two, but it can also benefit society as a whole by focusing on what we can do in reaction to others, such as taking our foot off the accelerator to let someone else in in traffic.
By day, I'm an elementary school teacher. By night, an MMA enthusiast bringing those closer to the fence another perspective.
Latest posts by Dave Madden (see all)