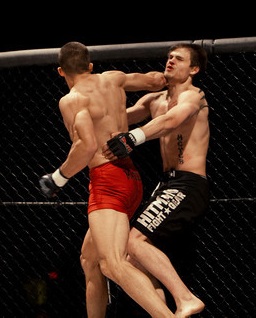 This is an instructional video for a Spinning Back Fist. This technique is found in MMA, Muay Thai, and Kickboxing. The Spinning Back Fist is flashy technique and has served as entertainment in many mixed martial arts fights. More fighters are utilizing this technique as something to add to their arsenal.
Spinning techniques are meant to be quick and sneaky. You don't want to broadcast the technique you plan to use, and it is important to work on speed. For this techniques especially, speed is crucial. If you can't do this technique very quickly in training you will never be able to execute it in a sparring or competition setting. This is one of the moves you should practice thousands of times and get very comfortable with it. Like this Spinning Back Fist, there are other spinning attacks that are great to. Spinning elbows, back kicks, side kicks, hook kicks, or wheel kicks are just some of the other effective spinning techniques.
Talk about your favorite techniques and get some strategy advice from the fighters on our MMA forum. You can find this technique in many highlight videos because spinning techniques produce some of the most entertaining knockouts in MMA.
Owner of evolvedMMA.com. I am a Certified Personal Trainer who trains Mixed Martial Arts. I review any and everything. I sometimes bet on fights!
Latest posts by Travis Williams (see all)